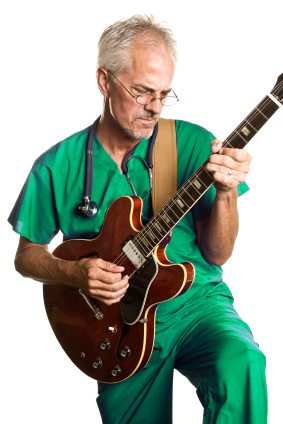 Many years ago I bought a guitar exercise book written by Al Di Meola. The first two things he pointed out in the book was the importance of creating good habits and taking care of your health. I never forgot those two golden rules, although taking care of my health was something I had to learn the hard way. It took me a while to learn the major benefits of living a healthy life.
Body work outs, healthy foods, stress release, finger warm up exercises, taking care of your hearing, stretching, relaxation, etcetera are all part of the journey in becoming and staying a good guitar player. I know we don't always have the time to work out and we all get into a slump once in a while. That's okay. It's part of life and it's good to have a break now and then, but that's no excuse to ignore that little voice in the back of your mind who knows what is best for you when you haven't taken care of yourself the last couple of months or worse. So let's pick it up where you left of. You know you'll be a lot happier once you start working out. We are talking about your health here. It's the most important thing!
Being fit will make you feel good about yourself. It gives you a more overall positive attitude. You will be more motivated to practice and more focused to achieve your musical goals. A good physical condition will also improve your performance on stage and in the studio when you're recording.
So here are some tips to get you in good shape and stay motivated at all times:
Continue Reading