May 15, 2019 by Klaus Crow
photo from Istockphoto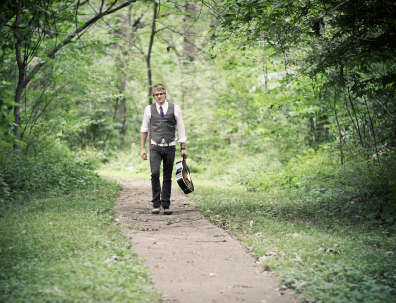 Whenever I become lazy I ignore that voice in my head saying: "I don't want to, I don't feel like it, why should I, tomorrow is another day". I stop listening to myself and start doing something. Something small. I know when I learn something new I get a great feeling out of it. So I say to myself: "Just learn one new thing, even if it is just a little one."
To become productive I always first stretch my legs and drink a glass of water. If I have done these two things my motor is up and running. Now I just pick up my guitar, put a guitar book or magazine in front of me and tell myself I will learn one or two new licks or chord progressions. Before I realize it, time is flying by and I'm enjoying myself immensely. I write down in a little notebook next to me that I want to learn one or two new things tomorrow without expecting major results, without expecting the same level of productivity I accomplished today. It is not about that. It's about learning something new and and enjoy that new lick, chord progression or whatever you learned to the fullest.
There is nothing more satisfying than learning and growing. Even if it's just one little thing. Little things can become huge. Little things can become life changing.
One new guitar lick or piece of music theory can change the way you play guitar or the way you think about chord changes and soloing. One new guitar lesson from your teacher, youtube video or guitar book can add a whole new dimension to your playing style.
Learning new things will:
change your perspective
extend your skills
make you happier
get you closer to achieving your goal
leave you wanting more
make you smarter and maybe even wiser
create chances and opportunities
make you feel energetic
make you curious and eager
give you satisfaction
lead to a more interesting life
make you a more creative, inspired and better musician.
And this is just one area of guitar playing. What about songwriting, recording and performing. There are so many lessons you can learn, so many wonderful things to discover that will increase the fun and urge to play more. For example you can start songwriting and recording today. You don't have to be a fully skilled musician to do so. In fact it can even work to your advantage. Less skilled musicians (and there are a lot of them, even famous ones) don't think so complex about songwriting, recording, producing, how things need or have to sound. That can result in something really touching and authentic. That is what songwriting is about.
Just start learning one new thing today. If you want to learn about songwriting, read one new thing about it and take that into practice. Take small steps. Maybe start with a lyric. Just write one or two lines of lyrics per day. You'll have your lyrics finished within two weeks. That's great! Then give yourself two weeks to write a melody to the lyrics. Remember… one small step everyday. Maybe your song won't turn out as good as you hoped it to be or maybe it does. Either way give yourself the time to develop, time to learn and become a better songwriter. If your not inspired today try to read one new post or article in a magazine or book that will improve your song writing.
Being a guitar player means being a musician. Being a musician means you can play, write, read, listen, record, sing, perform, live and breath music.
Take the challenge, try to learn one new thing on a regular basis and most important enjoy the experience.
Here some examples and find out where it will lead you to:
1. Create a nice chord progression.
2. Write a lyric.
3. Write a melody.
4. Transcribe your favorite song.
5. Create a little solo.
6. Learn a new lick or riff.
7. Record your guitar playing on a record device (mp3 player or recording software on your pc or mac)
8. Record and play the song of your favorite artist or something you really like.
9. Record your own song.
10. Let people hear what you've recorded. Learn from their constructive criticism.
11. Learn your favorite song by heart and play it in front an audience.
12. Learn different ways to play a song. Play a different rhythm, add chord extensions, etcetera.
13. Perform your song to friends and family.
14. Perform at a wedding, church, local bar, talent contest, support act, anywhere.
15. Teach somebody else to play guitar. Teach what you know. You learn from teaching.
16. Play guitar and sing at the same time.
17. Learn one new thing about singing.
18. Learn from other guitar players in your area.
19. Learn from other musicians. All instruments are related to each other.
20. Listen to your favorite guitar songs and guitar players. Study their work.
21. Read one new thing about music theory
22. Read (auto) biographies of musicians
23. Learn by doing and throwing yourself out there. We got nothing to lose but our egos. That's a relief.
"I find that the best way to do things is to constantly move forward and to never doubt anything and keep moving forward, if you make a mistake say you made a mistake" – John Frusciante