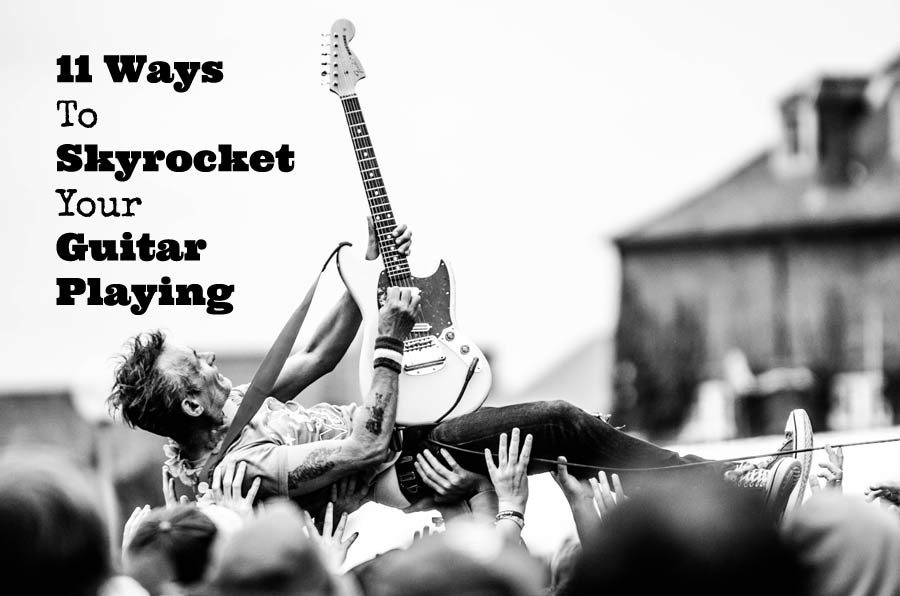 Somewhere down the road in your guitar learning journey there's a chance your playing gets stuck in a rut. You might play the same things over and over and find it hard to get out of that vicious circle. You need a boost and get outside of that box. So how do you do that? How do you get passed that bridge and get to the next level?
Today we got 11 ways to get you out of that rut, juice up your skills and skyrocket your playing.
Let's take off!
1 – Get the right tools for the job
First, make sure you're playing the right guitar. Some musicians stick with a guitar just because…. But playing the right guitar is not to be underestimated. Your appreciation for a guitar is a personal thing. Your personality, your taste and style of playing needs to resonate with a guitar. That's no bull. The way a guitar feels, sounds and fits is really important. The right guitar can motivate and boost your playing enormously.
We all have different preferences and specific needs for a particular guitar type (classical, acoustic or electric), body shape (Acoustic: Dreadnought, Grand Auditorium, Orchestra Model, Jumbo, etc. or Electric: Fender Stratocaster, Telecaster, Superstrat, Gibson Les Paul, Gibson SG, etc.), neck shape/width, string gauges, and so on. You need a guitar that feels right against your body, right in your arms, hands, fingers and one that fits your frame.
Adjusting the action of your guitar can also make a huge difference to your playing. "Action" is simply how close the strings are to the fretboard. A lower action can make your guitar a lot more comfortable and fun to play. Be careful, a very low action can cause fret buzz, so make sure it is done correctly.
Continue Reading