May 15, 2019 by Klaus Crow
Albert King playing and smoking.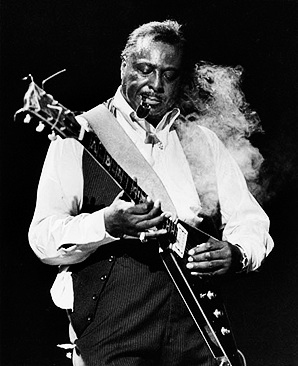 Today there are so many great electric blues guitar players out there, but what most of them have in common is that they are directly or indirectly influenced by these 3 gentleman:
B.B. King (9/16/1925)
Albert King (4/23/1923 – 12/21/1992) and
Freddie King (9/3/1934 – 12/28/1976)
Many blues players like Eric Clapton, Jeff Beck and Jimi Hendrix have been influenced by B.B. King.
Otis Rush, Mike Bloomfield, Jimi Hendrix and Gary Moore were influenced by Albert King. Younger blues player John mayer has been influenced by Stevie Ray Vaughan who in turn was strongly influenced by Albert King.
Guitar players like Peter Green, Mick Taylor, Lonnie Mack, Stevie Ray Vaughan and Eric Clapton were influenced by Freddie King.
Most of you already know the reputation of B.B. King but for those who are not familiar with each and every one of the three kings you'll absolutely benefit if you do. The impact of Albert and Freddie King on the evolution of the blues is not to be underestimated.
I suggest you take the time to listen and study the music and skills of these 3 blues guitar players. It's worth while the effort and it will change the way you play the blues for the rest of your life!
B.B. KING
Name: Riley Ben King better known as B.B. King (B.B. stands for Blues Boy).
Songs: "The thrill is gone", You know I love you, Ten long years, Woke up this morning.
Guitar: Viriants of the Gibson ES-355 (which he all refers to as "Lucille")
Amps:Lab Series L5 2×12″ combo amp and Fender Twin Reverbs.
Strings:Gibson SEG-BBS B.B. King Signature Electric Guitar Strings. Gauges: 0.10-0.13-0.17p-0.32w-0.45w-0.54w
Technique: B.B. King is noted for his minimalist playing style. He knows how to play the right notes or even a single note at the right time with the most beautiful vibrato. He often plays around a certain area of the 2nd position of the pentatonic scale which is referred to as the "BB King Box". (See below) and mixes up major and minor Pentatonic/Blues gracefully.




A pentatonic scale 1st position (E shape position)
e:------------------------5-8-5---------------------|
B:--------------------5-8-------8-5-----------------|
G:---------------5-7----------------7-5-------------|
D:----------5-7-------------------------7-5---------|
A:-----5-7----------------------------------7-5-----|
E:-5-8------------------------------------------8-5-|


 


The green notes are refered to as the B.B. King Box.


 


A pentatonic scale 2nd position (D shape position)
e:-------------------------8-10-8-------------------------|
B:--------------------8-10--------10-8--------------------|
G:----------------7-9------------------9-7----------------|
D:-----------7-10--------------------------10-7-----------|
A:------7-10------------------------------------10-7------|
E:-8-10----------------------------------------------10-8-|


 


Listen and Learn from B.B. King:



 


ALBERT KING
Name: Albert Nelson better known as Albert King.
Songs: Don't Throw Your Love on Me So Strong, Born Under a Bad Sign, I'll Play the Blues For You.
Guitar: Gibson Flying V (which he all refers to as "Lucy")
Amps: Anything for convenience and experimentation: Solid-state Acoustic amplifiers, towering Sun head-and-stack combinations, Ampegs, Rolands, Lab Series and Fenders and later on Roland JC-120 or an Acoustic 270 head with an Acoustic 2x12 cabinet (solid state).
Fx: MXR Phase 90
Strings: Gauges: 0.09 - 0.50
Technique: Albert King is noted for his awesome moaning and groaning approach to bending and phrasing single note lines using his thumb as a pick. He played left handed but with the strings up side down. In other words his guitar was strung like a right-handed guitar, but played left-handed.


 


Listen and Learn from Albert King:



 


FREDDIE KING
Name: Frederick Christian better known as Freddie King.
Songs: Have You Ever Loved A Woman, Hide Away.
Guitar: Gibson ES-335,345, and 355 guitars and Gibson Les Pauls with P90 single coil pickups.
Amps: Fender Twin and Twin Reverb amps.
Technique: Freddie used a plastic thumb pick and a metal index finger pick to achieve a more aggressive sound and he pushed the clean sound of his Fender Twins to total saturation. His technique is regarded by many as more exploratory and less traditional than that of his colleagues B.B. and Albert King. Decide for yourself!


 


Listen and Learn from Freddie King:



 


I couldn't resist but here's one personal favorite of mine. Listen how Stevie Ray Vaughan was influenced by Albert King. (Evolution baby!) Stevie Ray Vaughan and Albert King playing "Texas Flood". Enjoy!


 





 


If you happen to like Guitarhabits please take two seconds to visit my brandnew Facebook page and "like" it. It would mean the world to me. Just click the lovely green facebook button.



 




 




 




 




 




 


I sincerely wish you a merry christmas and a happy new year!
Best regards,
Klaus Crow