May 14, 2019 by Klaus Crow
Bigstock photo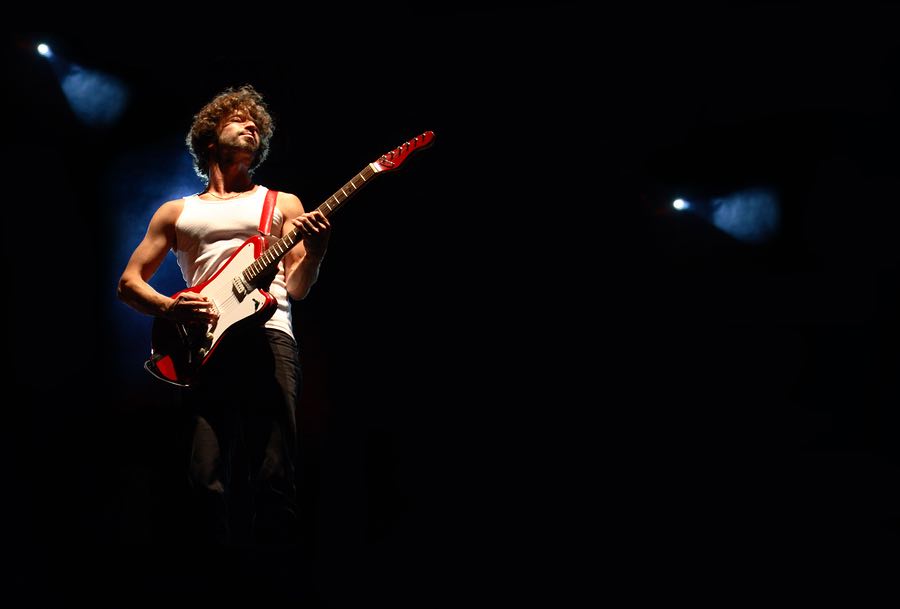 We all recognize those awkward moments of embarrassment, when it feels like everything you've worked so hard for suddenly falls and shatters to pieces.
In an instant you're desperately seeking for that nearest whole in the floor to jump in and disappear quickly or better yet just vanish into thin air.
Reality sucks sometimes. But these are the crucial moments when the tables are about to turn.
The times in my life where I made dramatic improvement in guitar playing, performing, teaching, blogging and other areas, is when I failed. Failed and painfully confronted.
Yes it hurts, but you will get over it and if you have an open mind and listen to what just happened you can learn and benefit from it tremendously.
I still remember the time when I was asked for a pop rock cover band with musicians ten years older than me. I thought I could play pretty decent guitar (Satriani, Metallica and SRV songs were on my repertoire). Then during one of the first rehearsals the drummer of the band told me my rhythm playing s#cked and that I'd better head back to my room to practice.
True or not, I did go back and practiced the hell out of my guitar to be assured of my position in the band. I ended up playing with those guys for years and had the time of my life.
I also remember forgetting a 3 minute guitar solo on stage and having a total black out. Another time i forgot the song lyrics. With blogging I have dealt with some harsh criticism in the comment section. Mistakes or not, I did feel like I failed and learned some really valuable lessons.
I reflected on those failures, evaluated the situation and thought about what I could do to not make the same mistake again. Probably change my perspective, do things differently and improve myself in certain aspects. Then I would work on it and try harder and smarter. All of these scenarios were often a crossroad that lead me to the right path ten times faster than I would otherwise have.
I can say I would not have been where I am right now without those failures.
And you know what? I still fail but I deal with it.
SO HOW DO YOU DEAL WITH FAILURE?
Here are some tips on how to cope with failure and how to respond in situations where failure or emmberasment is lurking around the corner:
– Be mild
Be open, kind and remain calm to the person who's telling you something important that might upset you. You don't have to defend yourself, just listen and let the person talk and have an opinion. There's no more to it. If it upsets you, you have to think and wonder why that is. Is there some truth in what the person in sharing? Listen, reflect, learn and act upon it.
– It's okay to make mistakes.
Know that WE ALL MAKE MISTAKES. But if you learn from them, you're on the winning team. It's not that you are waiting for mistakes to happen, but the more you'll make, the more you will learn.
– Learn to let go of perfectionism.
Perfectionism causes the fear of failure. Forgive yourself for your shortcomings. Care less or better yet not at all what others think of your failures and you are a free and wise man or woman.
– Don't take yourself so seriously.
If the mistake is harmless but just really embarrassing try to laugh about it. Be cool with it. Have some fun.
– Who defines failure anyway?
Don't always mistake the judgement of others for your failures. The opinion of someone is their opinion. Harsh criticism says more about the person who's delivering, than the person who's receiving the criticism. And who defines failure? Who defines what you are capable of, or what kind of person you are? Think about it. Don't always believe or accept everything from everyone.
– What doesn't kill you, makes you stronger
Turn your failure into resiliency. Learn to get back up and come out stronger. Acknowledge what happened, relax, contemplate your situation and focus on what steps to take next. Let go of any negative thoughts
and stay focused on the present.
Now take on that challenge, be aware of possible failure, learn from failure, act upon it and never give up!
Here's an inspiring short clip from singer songwriter Neil Young speaking about failure.
"You build on failure. You use it as a stepping stone. Close the door on the past. You don't try to forget the mistakes, but you don't dwell on it. You don't let it have any of your energy, or any of your time, or any of your space." ~ Johnny Cash
###
So what do you have learned from failure or do you have any tips on dealing with failure?
Let me know in the comments. I appreciate it.