March 29, 2021 by Klaus Crow
FreeDigitalPhotos.net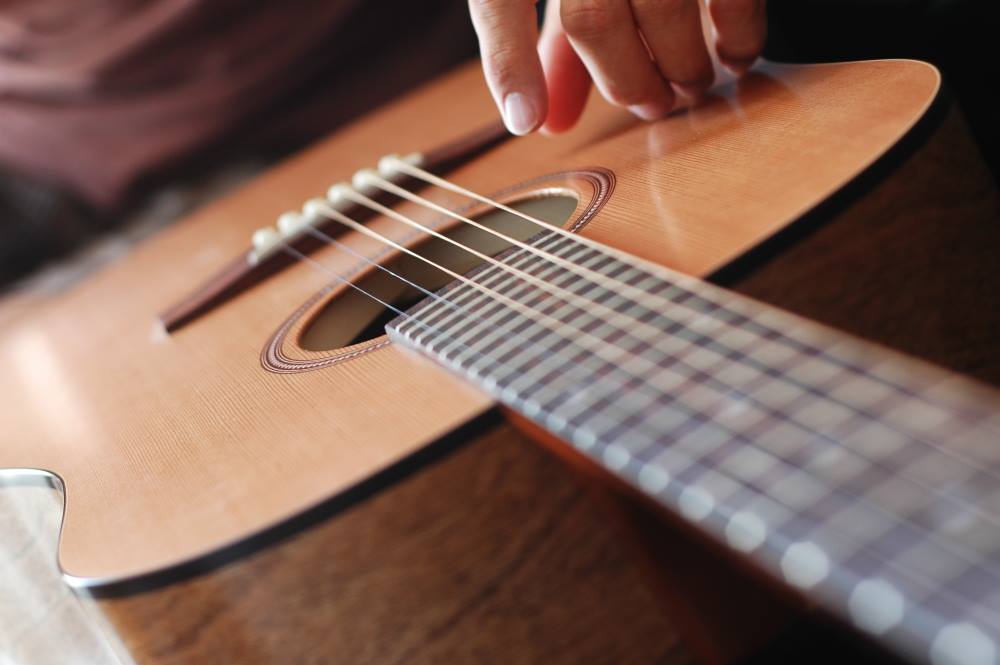 If your kids show any interest in playing an instrument, then I can't tell you enough to encourage them to go for it.
You probably have no idea how much of a difference you'll be making in their lives by letting them explore and develop a talent that will do more for them than you think.
Playing the Guitar Changed My Life
When I first picked up a guitar in the seventh grade, little did I know that my life would never be the same.
My Dad was a guitarist and he couldn't wait until his son got old enough for him to jam with. He bought me my first real guitar for Christmas: A sweet blood-red Peavey electric bass. It was a great beginner bass guitar that played just as smooth as anything twice its cost. Plus it sounded twice as great too.
It was only a few months of practicing before I was in high school and the my guitar playing really changed my life. When you're young, you seek out other people who are like you. So naturally I became friends with pretty much any other musician I could find. Before long my evenings and weekends were filled with more band practices and good times than I would have ever predicted. Everywhere I went, we all went as a group.
At a time when most other teenagers were being loners or just plain awkward, being in a band gave me the opportunity to hit the stage at the local talent shows, dances, and other hot spots around town. And with every performance I became more and more adventurous about performing live in public and meeting other people.
Being a Musician Builds Confidence
Because I was with a group of people that understood and identified with the music I loved, I was able to write and perform songs that came straight from my heart. That was something I had never done before – create something from nothing and then use my guitar to broadcast what I was feeling to the rest of the world.
By the time I was in college, most of my friends had moved on and I was on to a new chapter of my life. I put down the bass and decided to pursue my musical career as a solo acoustic act. My tastes in guitars had also matured as I found myself gravitating towards the smooth sounds of Taylor guitars. I got myself a better sounding instrument, a PA system, and a microphone. I was ready to take on the world!
Whereas before I would have relied on other people to book my gigs and come up with the set lists, it was all on me now. I did my own research, made my own calls, and put on my own shows. It was a ton of fun, and I found myself falling in love with the concept of hits the streets every weekend to play a new gig.
Even as an adult with a professional career, I can 100% say that I don't think I'd be half as confident as I am in my own abilities if I hadn't been a musician. I was really lucky to receive the encouragement I did as a young teenager just starting out on the guitar.
I had my Dad to set the path, my friends to help develop it, and myself to take it to places I never thought were achievable. I was able to jam out songs I thought I'd never be able to play. I was able to sing in front of people I never thought I'd be able to get up in front of. I had the courage to try things I never thought I could ever do.
Thanks Dad for teaching me the guitar. That was a great present.
This contribution was from DW at MyFirstAxe.com, a blog that is all about helping new musicians find the best quality guitars at an affordable price.