photo by Ivan Zuber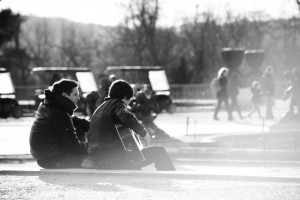 A few days ago I saw a great singer songwriter on TV. He was playing his repertoire, talking about his life and all the songs he had written over the years.
I was all ears and loved every minute of it. While listening to his wisdom and beautiful melodies something struck me.
It was one of those wake up calls when suddenly you can see things very clearly. I had a strong urge to change some things in my life again. I needed to get my priorities straight and get back to what is most important in my life. I have done so.
Sometimes with everything that life has to offer, you get lost or off track. You are distracted or tempted by things that look interesting and sound amazing at first. Before you know it you are in over your head. You taste, but end up tasting too much of it. It does not fulfill you anymore.
It does no longer match your identity. Times are changing and so are you. You grow, experience, learn many different things that can change the course of your life. You might become confused about your current situation. You might doubt your job, your lifestyle, the way you play guitar, the band you play in, the music you play, your role as a musician, what you need to practice, how you spend and manage your time, what you want in your life and what you don't want in your life.
Continue Reading