March 12, 2021 by Klaus Crow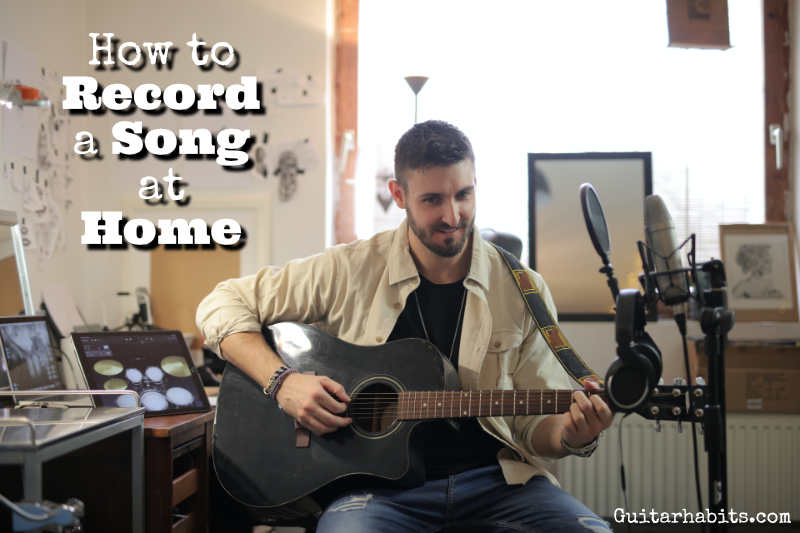 Have you always wanted to record you own songs? Do you want to record a cover song from your favorite artist? Well this might be the time for you to take your song from the guitar onto the recording tracks and bring it to life so you can share your creativity with the world.
Recording songs is a beautiful and inspiring part of being a musician. There is so much to learn from it and it's such an enjoyable and fulfilling process. You are now able to sit in the producer's chair and share your music with just one click away. How great is that?
Do you first need help writing a song check out Why and How to Write Songs on Guitar – Complete Guide!
Prepare
Before you start recording your song make sure you can play (and sing) your song from start to finish. Practice your song as much as you can, so you are ready when you hit that record button.
It's not necessary to have every detail of the song figured out yet, but the more prepared you are, the easier the recording process will be.
You can also practice your song with a metronome beforehand so when it's time to record you are used to the feel of a click track (more on that later). A good practice of the song also makes the edit process much easier.
Equipment
To record your song you need to have a couple of things:
A fast computer/laptop
Audio interface
DAW
Microphone
Popfilter
Studio monitors
Microphones can range from $100 dollars to thousands of dollars, but with today's budget microphones you can get really good high quality recordings.
The same goes for budget audio interfaces. For 200 dollars you can get a high quality budget audio interface that comes with a DAW and all kinds of instrument and FX plugins. Check out in the post below for high quality affordable equipment and plugin recommendations.
DAW
DAW stands for Digital Audio Workstation. This is the recording software you are going to use on your computer. Mac users can use Garageband (free) or buy LogicPro to takes things a step further. A lot of professional musicians use LogicPro (Mac only) to write and create their music.
Windows users (and Mac) can download Ardour (free), buy the really affordable Cockos Reaper or go for more popular DAW's like Cubase, Image-Line's FL Studio and Ableton Live.
And then there is Avid Protools which is the industry-standard recording and post-production software.
Create a Guide Track
First you want to create a click track that you can follow and play along with. The click track determines the tempo for the song. Take some time to play along with the click track and set the right tempo for the song.
Using a click track makes sure all the instruments are following the same tempo and stay on beat, so they can be edit later on in the process.
Instead of a click track you can also use a drumloop. A click track can sometimes feel a bit rigid to play along with, so a drumloop solves that problem.
You can also create a scratch track and record instruments as a guide for other instrument to play or sing along with. For example, you might want to play a quick guitar guide track for the bass player to support his recording session. You can always overdub this guitar part later to record a good track and delete the old one.
Recording Rhythm Tracks
Once your guide track is set and ready you can start recording the basis for your track. Normally you first start with the rhythm tracks consisting of drums, bass and guitar.
You can record real live drums at home if you have a drumkit. If you don't have that luxury you can use drum loops or program drums yourself which is also the easiest way. Advanced technology has made the quality of sampled instruments really good, so it's no problem to get high quality drum kits, loops and drum elements for your song.
Overdubbing
Once you have the drums, guitar and bass ready you can start overdubbing by layering sounds on top of the original ones, adding extra guitars (electric, acoustic, 12 string, different brands and amplifiers) and guitar parts (rhythm, fingerpicking, riffs and solos) keys, synths, vocal harmonies, etc.
In the music production process most of the time is spent in the overdubbing stage where a lot of creativity, fun and experimentation is going on.
Arranging
Arranging a song can be challenging but you can make a song as simple and complicated as you want it to be. If you're just starting out keep things as simple as possible.
Learn from the masters. Put on your favorite songs and carefully listen to the song arrangements, vocal harmonies, effects and production. Listen to each individual instrument and how it falls into the musical landscape of the song. Learn and listen as much as you can.
Finding Musicians
If you dare to take on the challenge you can record the whole song yourself, programming drums, recording the guitar, bass and piano tracks or you can find musicians from your area who can help you out.
If you don't know any musicians or you lack the skills to do it yourself you can also find musicians online and collaborate or hire a professional musician who'll record the track at a reasonable price.
Finding Instruments
If you are doing most of the recording yourself you want to have great drum, bass and keys sounds. Most DAWs already have great build-in instrument plugins you can choose from but if you want to step up your game you can check out some of the recommendations below in the post.
Editing
You want to edit each instrument track right after recording, so the next instrument you record will fit and match perfectly. First compare your duplicate tracks and pick the best recording for the song.
Fix any timing issues. You can do this manually or with use of a time-stretching plugin.
Clean up the recording track by cutting out all kinds of unwelcoming buzz, hum, or hiss noises between audio sections.
Mixing
Mixing can go two ways. You can learn to mix the song yourself or you can hire a professional to mix your tracks for you. Hiring a professional engineer with years of experience who uses high quality equipment can really make the song stand out and lift it to a much higher level. If you do hire a professional it's important the engineer understands your vision for the song.
You can also learn to mix yourself which is a skill an art that takes a lot of practice and time to learn. You also need the appropriate equipment or mixing plugins to get the right results. If you just want a nice song and not for commercial use you can learn a lot by yourself and mixing can be great fun.
For mixing you need at least grasp the basics of mixing like level, panning, dynamics processing, EQ, and time-based effects.
Mastering
After the song is mixed and exported to a single stereo audio file there's the final stage of processing we call mastering. Here you enhance the overall track through additional compression, EQ, tape and tube saturators, limiters, and other signal processors. Again, you can learn to do this yourself or outsource it to a professional. If recording remains your hobby and getting your song on the radio is not your priority you can skip the mastering and enjoy your final mix instead.
Sharing and Promoting Your Song
Once your song is finished you can upload it to online streaming platforms like Spotify, AppleMusic, Soundcloud and Youtube. You can use a website like Distrokid to make life easier for you and manage all these platforms in one place. You can then promote your songs via Social Media or build your own website and share your music with your friends and the rest of the world.
Action
Setting up your own home studio might sound a big step, but it's easier than you think. Just take it one step at a time. You probably already have a computer, so you can start with a DAW, a small interface, a microphone, monitors or headphones and you can start making music. Along the way you can expand your setup anyway you like.
Have fun creating music!
High Quality Affordable Equipment:
Note: As an Amazon Associate I earn from qualifying purchases.
Large Condensator Microphones:
Audio Technica AT2020
Rode NT1-A
Blue Microphones Bluebird
sE Electronics 2200a II
AKG C214
Audio interfaces:
Focusrite Scarlett 2i2
Presonus Studio 24c
Audient iD4 MkII
Steinberg UR22C
IK Multimedia iRig HD 2
Studio monitors:
KRK Rokit RP7 G4
Genelec 8010A
IK Multimedia iLoud MTM
Mackie XR624
Adam Audio T5V
Head phones:
Audio-Technica ATH-M50x
Sennheiser HD 206
Sennheiser HD 25
Sony MDR-7506
Beyerdynamic DT990 Pro
Popfilter:
Nady MPF-6
ASFSS6-GB Dual-Screen
Stedman Proscreen XL Popfilter
Avantone PS-1 PRO-SHIELD
Blue THEPOP Universal pop filter
VST Instrument plugins:
Specatrasonics Trillian (bass guitars)
Toontrack EZdrummer (drumloops)
Spectrasonics Keyscap (pianos and keyboards)
Spectrasonics Omnisphere 2 (synthesizer)
FXpansion Geist 2 (drummachine)
Vienna Symphonic Library (strings)
FX plugins:
Klanghelm MJUC (Compressor)
DMG Audio Limitless (Limiter)
FabFilter Pro-Q 3 (Equalizer)
Audio Ease Altiverb 7 (Reverb)