September 6, 2023 by Klaus Crow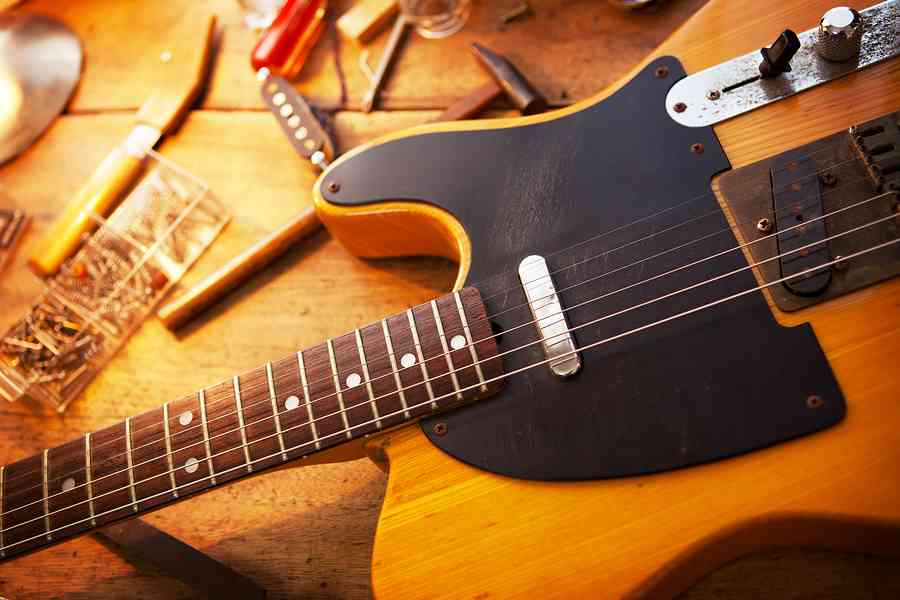 Bigstock photo
The dominant 7th chord is the most common used chord in blues. But also the ninth and thirteenth chords are found regularly in blues music to give that extra flavor to a chord progression. They add a little bit of jazz flavor.
Choosing the right blues chords can make your blues rhythm playing sound fresh and full of color.
Playing these blues chords in different positions will give you a unique sound every time again and makes playing rhythm much more fun and challenging.
The blues chords shown below are all in the key of A, however they are moveable chords so they can be played in every key. The red dot indicates the root note. In the diagrams below all red notes are "A" notes. If you would move all the chords up a whole step then the chords are in the key of B.
If you want the chords to be in the key of E, then move the entire chord so that the red dot (root note) lands on the "E" note.
Tips:
– Learn to play the chords in different keys.
– Memorize all nine chords.
– Practice the chords with a 12 bar blues progression.
/ A7 / A7 / A7 / A7 / D7 / D7 / A7 / A7 / E7 / D7 / A7 / E7 /
You can exchange a 7th chord for a ninth or thirteenth chord anytime you like.
– Practice the 12 bar blues a couple of times and each time use different chords.
– Practice this every day for a week.
– Make sure you keep using the chords on a regularly basis so they become part of your guitar vocabulary.
If you like more advanced blues progressions check out this post 3 Juicy blues chord progressions to be prepared
Expand your blues chord vocabulary and have fun!
9 Blues Guitar Chords to Rock The House!
Part I
Part II
1 = index finger, 2 = middle finger, 3 = ring finger 4 = pinky


Do you know some nice blues chords please share in the comments. I appreciate it.