March 29, 2021 by Klaus Crow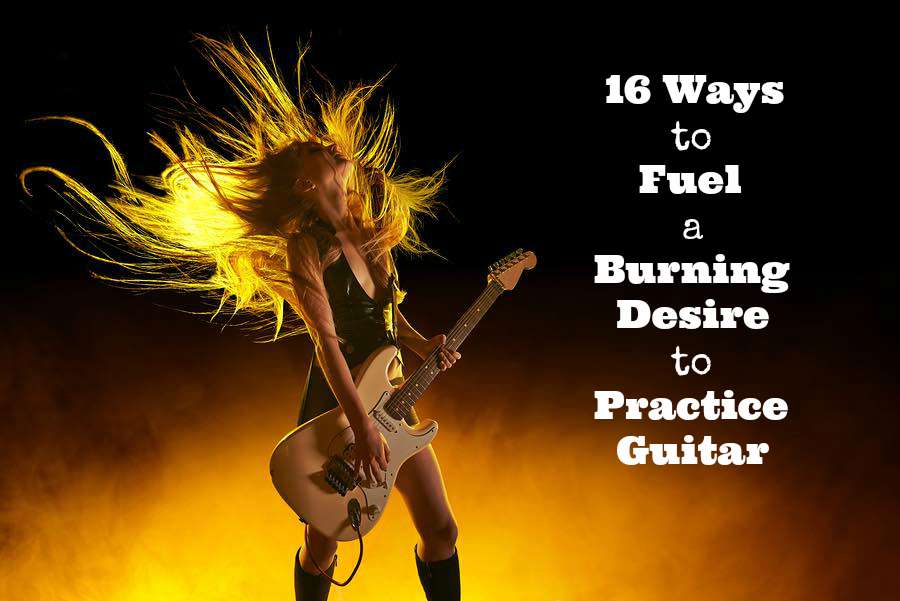 When you start out playing guitar everything is new, fun and exiting. Your playing improves, expands and grows further.
Then all of a sudden life gets busier. Your job, school or other activities are taking their toll. You meet the love of your life, get married, have children or you need to move to another place. This means you have to divide your attention and your playing could get stuck in a rut. You don't want this, but it's happening.
Now, if it's been a while since you've picked up your guitar and you need some fuel to cultivate that burning desire to practice again or you could just use a good boost, then check out these 16 keys to get back in the saddle:
Let's thrive again!
1 – Read and study guitar magazines
Get a copy of Acoustic guitar, Guitar world or Total Guitar. Magazines are full of inspirational stories, tablature, reviews and interviews. Put them on the table in the living room so you can't miss.
2 – Watch and be galvanized by awesome videos
Search your (or my) favorite guitar players and songwriters on Youtube. Watch lessons, interviews, concerts, documentaries and behind the scenes.
3 – Find a guitar tablature book of your favorite guitar player.
Get a copy of your favorite guitar tablature book. Put the book on a music stand in the living room. Don't put it on the bookshelf. You need to see the book right in front of you every time you pass by. Check out the Top 150 greatest guitar players of all time accompanied by the best tablature books.
4 – Meet up with fellow musicians online
Search online for a guitar buddy or a group. Everybody is in search of people that want to play together. Playing with other musicians is a great motivator. Meetup is great place to get started.
5 – Read guitar blogs
Guitar blogs will give you lessons and inspiration on a regular basis. Sign up for a blog to get you started, motivated and supplied with all the tools you need to improve your playing. Subscribe to Guitarhabits or if you're into jazz you should check out Matt Warnock's Guitar blog.
6 – Get tickets
Go see a concert of your favorite guitar player or band to fuel your inspiration.
7 – Watch guitar instruction DVD's
There are lots of great guitar instruction DVDs from various great guitar players. They will make you start playing again. If you're into fingerpicking Chet Atkins / Tommy Emmanuel style then check out Guitar of Chet Atkins
8 – Clean and maintain your guitar.
Take your guitar out of the bag or case. Start cleaning and polishing
the top, sides, back, fingerboard and frets. Put some fresh new strings on your guitar so it sounds and feels good again. Once you start taking care of your guitar the urges to practice will arise.
9 – Join a band or start your own.
A band is a real motivator for making musical things happen and to keep growing. If you don't know any people, check out bandmix.com and find people in your area. Just start with a bass player or keyboard player. Start practicing and keep searching for new members in the meantime. Before you know it you'll be playing with a complete band.
10 – Guitar apps
Download some of the best guitar apps that will make you play instantly.
11 – Join a guitar community online
Search online for guitar communities like UG and Reddit's Guitar Community. Join the conversation. Start talkin' and let people advice and encourage you to start practicing. You will gain new ideas and ways to make playing more fun.
12 – Visit your local guitar shop
Try some different guitars at a guitar store in your area and you will discover new beauties that will make your blood start pumpin' again. If you aren't planning to get out of your comfy seat then check out these high quality affordable acoustic guitars.
13 – Where to start
Find a guitar teacher in your area, book a trial lesson and see where it will take you. Before you know it you're on a roll. If you don't like real teachers you can also check out this post A beginners path to learning guitar or check out the lessons archive
14 – Design your room
Design your room in a way that inspires you to practice and play guitar.
15 – Sign up for a guitar workshop
Workshops or seminars are a great trigger to get you started again. You can learn, ask questions and be fueled by new inspiration.
16 – Download a guitar course
Once you start a course you will get excited and the practice juices will start flowing again.
If you're into blues or rock soloing check out the 50coolblueslicksimprovisation course.
Do you have any more ideas to get the fire burning? Please share in the comments.