November 30, 2022 by Klaus Crow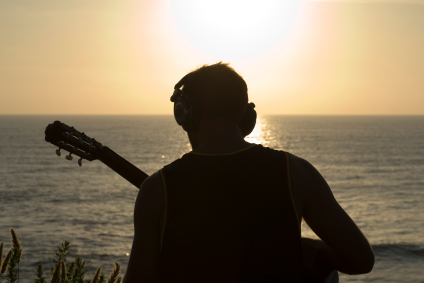 Wouldn't it be great if you could figure out the chords, melody and rhythm to a song without the need of video tutorials, sheet music or Tabs?
Of course that would be awesome! Well, since we're on it, let's dive in.
Here are 12 ways to develop this wonderful skill. Read, listen and learn.


1. Quietness
First of all go to a quiet place so you can concentrate more easily. Lock the door of your room, turn off the TV, Internet and other distractions. Try not to be interrupted.
2. Listen to the instruments
Listen to the guitar from beginning to end. Don't listen for fun, but concentrate. Try to listen to only one guitar part at a time. First listen to the rhythm guitar throughout the whole song. Focus! Don't let yourself be distracted by other instruments or other guitar parts like the lead guitar. The second time listen to another guitar part or other instrument. This will train your hearing tremendously.
3. Listen to the chords
Listen to the first chord that is played. Is it a major or minor chord? A major chord sounds happy. A minor chord sounds sad. Let's assume it's a major chord. A lot of pop songs use common guitar chords like C, A, G, E D, F and Bb. Try one of those.
If you hear a minor chord try Am, Dm, Em, Bm or F#m. Listen closely and rewind the song as many times as you need to. Listen if it's an open chord (C, A, G, E, D, Dm, Am, Em) or a barre chord. Open chords include open strings that are not fingered, a barre chord contains no open strings and sounds more tight and thicker sounding.
Play a Bb or F barre chord and move it up the fretboard a half step at a time, listen carefully until you find the right chord. For example: as you move an F barre chord up a half step, you'll get F#. Move up another half step and you'll get G, G#, A, A#, B, etc ,etc.
This way you can hear every major chord with only one chord shape. If it's a minor chord you use F minor and move it up the fretboard. For major chords you can also use Bb barre or Bbm barre for minor chords.
4. Listen to the chord changes
The next step is to focus on where the chord changes are. How many measures or bars does every chord have before a new chord starts. Usually a chord changes with every 1 or 2 bars, but it can also have 3 bars or more. Listen to the pitch changing from one chord to another. Listen carefully and rewind a few times until you get the hang of it. Again figure out if it is a major or minor chord. Happy or sad.
5. Figure out the song structure
A song is usually made up of an intro, verse, pre chorus, chorus, bridge and outro. You can put these in a certain order to create a song structure. A most common song structure is: Intro-verse-chorus-verse-chorus-bridge-chorus-outro or Intro-verse-pre chorus-chorus-verse-pre chorus-chorus.
Listen to the song from beginning to end and try to recognize where the verse is, where the chorus is and so on. If you have transcribed the verse and chorus, you probably won't have to transcribe the second verse and second chorus because they are usually the same.
6. Listen to the bass guitar
Practice listening to the bass guitar. Concentrate on the lower notes. Concentrate on the rhythm and the melody of those notes. The notes of the bass guitar are often the root notes of the chords you seek. For example: if you hear a repeating G note on the bass guitar your guitar chord is probably a G major or G minor.
7. Transcribe the melody
A melody can be a vocal part or a guitar solo or intro. A way to amazingly improve your hearing is to transcribe a melody. This is a little bit more complicated then transcribing chords because there are a lot more notes to it. But with practice and dedication you will succeed.
First try to sing the melody as you hear it. This is the first step. Then break it up into chunks and try to find the notes on the guitar one by one. When you do this the first time it takes quite a while, but after some exercise you will find the right notes and transcribe the melody much faster.
8. Figure out the time signature
Listen to the rhythm and try to recognize the time signature. Most pop & rock songs are 4/4. This means there are 4 notes in a measure / bar / beat. You count 1, 2, 3, 4 and then a new beat begins. 2/4 = 1, 2 , 1, 2 , 1, 2, etc.
There are also time signatures like 3/4 or 6/8 and many more, but 4/4, 2/4, 3/4, and 6/8 are the most common. 3/4 = 1, 2, 3 – 1, 2, 3 – 1, 2, 3 etc. 3/4 is more of a traditional waltz. Beginners have difficulty with telling the difference between 3/4 and 6/8. There is another feel to 6/8. It's like 1 & a 2 & a, 1 & a 2 & a. This also takes a little practice to learn. Try it with different songs.
9. Hearing the pitch
You can train to hear the right pitch. A great way to do this is to play a single note on a piano or keyboard and try to find the same note somewhere on your guitar. If you don't have a piano you can also sing a note and then try to find it on the guitar.
The other way around is just as important. Play a note somewhere on the guitar and try to sing this note. You are now training your tonal memory. For some this comes naturally, others have to train it. When you train to hear the right pitch you are more likely to transcribe what you hear.
10. Small steps
Begin with an easy pop song. Don't try to transcribe a difficult song with a lot of arrangements when you are just starting out. Choose a ballad instead of a fast song. A lot of ballads are easier to transcribe than fast tunes.
11. Write down what you hear
Write down the chords, the melody or whatever you need to transcribe so you don't have to worry about forgetting and you can share it with your fellow musicians. Writing it down is the proof of your achievement.
12. Practice your ear training
Transcribing is a skill that has to be learned and can be difficult sometimes. Practicing is the key to transcribing and training your ear. Try different songs, different styles and tempos. Practice with concentration, dedication and enthusiasm and you'll be rewarded, I promise.