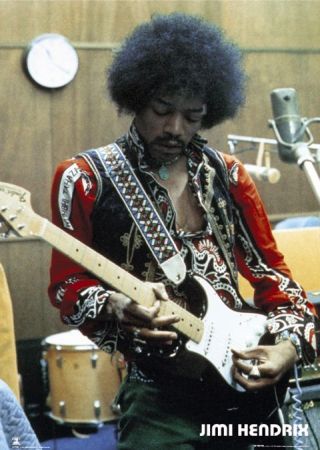 I grew up listening to Stevie Ray Vaughan. My oldest brother was a big fan of Stevie and he introduced me to the wonderful world of blues and rock. He did not play guitar himself but he loved listening to guitar players all the time.
I started playing guitar at the age of 9, but it took another 6 years before I started listening and learning the songs of Joe Satriani, John Frusciante, Scott Henderson, Jimi Hendrix, Dimebag Darrel, Marty Friedman, Slash and Frank Gambale to name a few.
Much later I began listening to pretty much the rest of the list presented below. Listening to all these guitar players enriched my playing and my life as a musician and music lover. I hope it does the same for you.
This is a list of the most greatest, influential and famous guitar players of all time in no particular order. The list is not complete, because it can never be.
It is a wonderful guide to learn from, listen to and read about. The musicians and their music will inspire and motivate you. If you want to become a great guitar player then these are your teachers.
I present to you: The gurus, revolutionaries and guitar heros. Enjoy!
001. Jimi Hendrix (Blues/Rock) – Tabs
002. Robert Johnson (Blues) – Tabs
003. Albert King (Blues) – Tabs
004. B.B. King (Blues) – Tabs
005. Buddy Guy (Blues) – Tabs
006. Hubert Sumlin (Blues)
007. Chuck Berry (Blues) – Tabs
008. Johnny Winter (Blues) – Tabs
009. Ry Cooder (Blues/Rock/Tex-Mex/World Music)
010. Keith Richards – Rolling Stones (Blues/Rock) – Tabs
011. John Frusciante – Rhcp (Rock) – Tabs
012. Jeff Beck (Blues) – Tabs
013. Jimi Page – Led Zeppelin (Rock) – Tabs
014. Richard Thompson (Rock/Folk)
015. Stevie Ray Vaughan (Blues) – Tabs
016. Eric Clapton (Blues) – Tabs
017. The Edge – U2 (Rock) – Tabs
018. Brian May – Queen (Rock) – Tabs
019. Eddie Van Halen – Van Halen (Rock) – Tabs
020. Frank Zappa (Rock/Jazz) – Tabs
021. Joe Perry – Aerosmith (Blues/Rock) – Tabs
022. Ritchie Blackmore – Deep Purple (Rock) – Tabs
023. Steve Howe – Yes (Progressive Rock) – Tabs
024. David Gilmour – Pink Floyd (Rock) – Tabs
025. Rhandy Roads – Ozzy Osbourne (Rock) – Tabs
026. Angus Young – AC/DC (Rock) – Tabs
027. Mark Knopfler – Dire Straits (Rock) – Tabs
028. Peter Green – Fleetwood Mac (Blues/Rock) – Tabs
029. Lindsey Buckingham – Fleetwood Mac (Rock) – Tabs
030. Gary Moore (Blues) – Tabs
031. Chet Atkins (Country) – Tabs
032. Andy Summers – The Police (Rock) – Tabs
033. Carlos Santana (Rock) – Tabs
034. Robben Ford (Blues/Jazz) – Tabs
035. Slash – Guns 'n Roses (Rock) – Tabs
036. Peter Frampton (Rock) – Tabs
037. Pete Townshend – The Who (Rock) – Tabs
038. Robbie Krieger – The Doors (Rock) – Tabs
039. George Harrison – The Beatles (Rock) – Tabs
040. Neil Young (Rock) – Tabs
041. Albert Collins (Blues)
042. Rory Gallagher (Blues/Rock) – Tabs
043. Jeff Healey (Blues/Rock) – Tabs
044. Lightnin' Hopkins (Country Blues) – Tabs
045. Bo Didley (Blues)
046. Joe Walsh – The Eagles (Rock) – Tabs
047. Vernon Reid – Living Colour (Rock) – Tabs
048. Kurt Cobain – Nirvana (Rock) – Tabs
049. Duane Allman – The Allman Brothers (Rock) – Tabs
050. Joe Satriani (Rock) – Tabs
051. Steve Vai (Rock)
052. Yngwie Malmsteen (Rock)
053. Paul Gilbert (Rock)
054. Eric Johnson (Rock)
055. Steve Morse (Rock/Funk/Jazz/Classical/Country)
056. Nuno Bettencourt – Extreme (Rock)
057. Kirk Hammet – Metallica (Hardrock/Metal)
058. James Hetfield – Metallica (Hardrock/Metal)
059. Dave Mustain – Megadeth (Hardrock/Metal)
060. Marty Friedman – Megadeth (Hardrock/Metal)
061. John Petrucci – Dream Theather (Progressive Metal)
062. Alex Lifeson – Rush (Progressive Rock)
063. DimeBag Darrel – Pantera (Metal)
064. Michael Angelo Batio (Rock)
065. George Lynch (Rock)
066. Vinnie Moore (Rock)
067. Django Rheinardt (Gipsy Jazz)
068. John McLaughlin (Jazz)
069. Al Di Meola (Rock/Jazz)
070. Paco De Lucia (Flamenco)
071. Adrian Legg (Acoustic)
072. Tommy Emmanuel (Acoustic)
073. Paco Peña (Flamenco)
074. John Williams (Classical)
075. Julian Bream (Classical)
076. Roy Buchanan (Blues)
077. Michael Schenker – Scorpions (Rock)
078. Johnny Ramone – The Ramones (Punk/Rock)
079. Tom Morello – Rage Against The Machine (Rock)
080. T-Bone Walker (Blues)
081. Adam Jones – Tool (Metal)
082. Brad Paisley (Country)
083. Jason Becker (Rock)
084. Joe Bonamassa (Blues/Rock)
085. Albert Lee (Country)
086. John Lennon – The Beatles (Rock)
087. Paul McCartney – The Beatles (Rock)
088. Steve Lukather – Toto (Rock)
089. Hank Marvin – The Shadows (Rock)
090. Dave Matthews (Rock/Jazz)
091. Mike McCready – Pearl Jam (Rock)
092. Richie Sambora – Bon Jovi (Rock)
093. Keith Scott – Bryan Adams(Rock)
094. Scotty Moore (Rockabilly)
095. Brian Setzer – Stray Cats (Rockabilly)
096. Phil Collen – Def Leppard (Rock)
097. Robert Cray (Blues)
098. Robert Fripp – King Crimson (Prog-Rock)
099. Wes Montgomory (Jazz)
100. George Benson (Jazz)
101. Pat Matheny (Jazz)
102. Danny Gatton (Country)
103. Scott Henderson – Tribal Tech (Jazz Fusion)
104. Allan Holdsworth (Jazz Fusion)
105. John Scofield (Jazz)
106. Joe Pass (Jazz)
107. Mike Bloomfield (Blues)
108. John Fahey (Acoustic)
109. Pat Martino (Jazz)
110. Tony Iommi – Black Sabbath (HardRock)
111. Richie Kotzen (Rock)
112. Shawn Lane (Jazz Fusion Rock)
113. Alex Skolnick – Testament (Metal)
114. Jeff Waters – Annihilator (Metal)
115. Dave Grohl – Foo Fighters (Rock)
116. Jeff Hanneman – Slayer (Trash Metal)
117. Joe Diorio (Jazz)
118. Charlie Christian (Jazz)
119. Grant Green (Jazz)
120. Jim Hall (Jazz)
121. Jennifer Batten (Rock)
122. Guthrie Govan (Rock Fusion)
123. Andy Mckee (Acoustic)
124. John Mayer (Blues)
125. Gary Hoey (Rock)
126. Matthew Bellamy – Muse (Rock)
127. Noel Gallagher – Oasis (Rock)
128. Jerry Garcia – Greatful Dead (Rock)
129. Jonny Greenwood – Radiohead (Rock)
130. George Lynch (Rock)
131. Daron Malakian – System of a Down (Metal)
132. James Burton (Country)
133. Larry Carlton (Jazz Fusion)
134. Warren Haynes – Allman Brothers Band (Blues)
135. Dick Dale (Surf Rock)
136. Les Paul (Jazz Country)
137. Andrés Segovia (Classical)
138. Jorma Kaukonen – Jefferson Airplane (Rock)
139. Jan Akkerman (Jazz/Blues)
140. Frank Gambale (Jazz Fusion)
141. Mick Ronson – David Bowie (Rock)
142. Freddie King (Blues)
143. Trey Anastasio – Phish (Rock)
144. Prince (Rock)
145. Greg Howe (Rock Fusion)
146. Andy Timmons (Rock)
147. Tony Macalpine (Rock Fusion)
148. Michael Lee Firkins (Rock)
149. Larry Coryell (Jazz)
150. Brett Garsed (Jazz Fusion)
"… guitarists shouldn't get too riled up about all of the great players that were left off of 'Rolling Stone Magazines' list of the Greatest Guitar Players of all Time' … Rolling Stone is published for people who read the magazine because they don't know what to wear …" - Joe Satriani
Feel free to leave a comment. I'd appreciate it.
You can also subscribe to receive free post updates via Email or RSS
114 Responses to "Top 150 Greatest Guitar Players of All Time"