May 15, 2019 by Klaus Crow
Photo by Steve Garry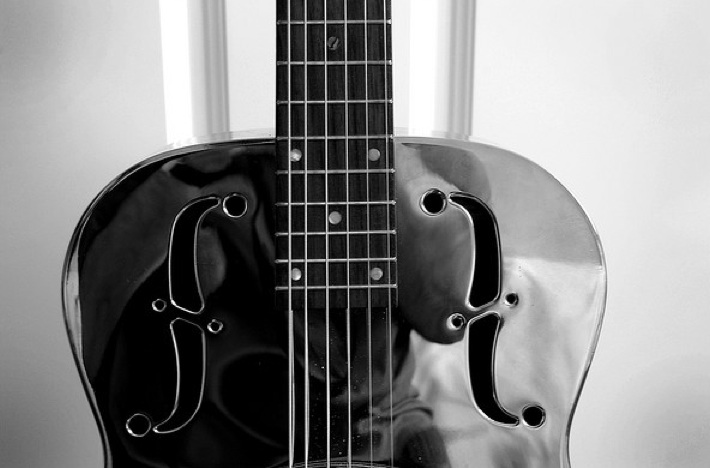 A good blues turnaround is the icing on the cake of every blues progression.
I always beg, borrow, steal and create my own nice sweet sounding turnarounds to add that extra magic when I'm playing a blues song. It's one of the things that makes the blues sound so cool.
Blues turnarounds are played at the end of a section of a blues progression which then leads to the next section or the end of the song.
To get a good impression of how turnarounds are played listen to blues guitar players like B.B King, Albert King, Stevie Ray Vaughan and Eric Clapton and study theirs.
Tip: Every time you play the blues try to play a different turnaround, so you don't end up playing the same turnaround ten years from now. It's easy to fall into that trap. Expand your vocabulary!
Enjoy these 6 turnarounds to spice up your blues:
Have a great one!


BLUES TURNAROUND #1



 


e:-------0--------0--------0-----------------------------|
B:-----------------------------0-----3--2----------------|
G:----4--------3--------2------1-----3--2----------------|
D:--6--------5--------4--------2-----2--1----------------|
A:---------------------------------x-3--2----------------|
E:-------------------------------------------------------|


 




BLUES TURNAROUND #2



 


e:---------4------4------4---4-------9--10--11-----------|
B:-------5------5------5-----5-------8---9--10-----------|
G:----/7------6------5-------4-------9--10--11-----------|
D:-------------------------------------------------------|
A:-------------------------------------------------------|
E:-0-----------------------------------------------------|


 


BLUES TURNAROUND #3



 


e:------0-----0-----0------------------------------------|
B:----3-----2-----1-------------------3------------------|
G:--4-----3-----2-----0h1-------------2------------------|
D:-------------------------2----------1------------------|
A:----------------------------0-1-2---2------------------|
E:-------------------------------------------------------|


 


BLUES TURNAROUND #4



 


e:-------------------------------------------------------|
B:----9-------8-------7------5-------6---7---------------|
G:------7-------6-------5----7-------7---8---------------|
D:-9-------8-------7---------6---x---6---7---------------|
A:---------------------------7---x---x---x---------------|
E:-----------------------------------6---7---------------|


 


BLUES TURNAROUND #5



 


e:--3b-0---0---------------------------------------------|
B:-------3----3p0-----------------------------------2----|
G:-----------------3p2p0--2p0-----0h1---------------2----|
D:-----------------------------2--------2p0---------1----|
A:-------------------------------------------0h1h2--2----|
E:-------------------------------------------------------|


 


BLUES TURNAROUND #6



 


e:-------------------------------------------------------|
B:------0----0----0----0----0----5--6--7-----------------|
G:-------------------------------6--7--8-----------------|
D:-------------------------------5--6--7-----------------|
A:-------------------------------------------------------|
E:---0----4----5----6----7-------------------------------|