May 15, 2019 by Klaus Crow
Photo by Jason Rogers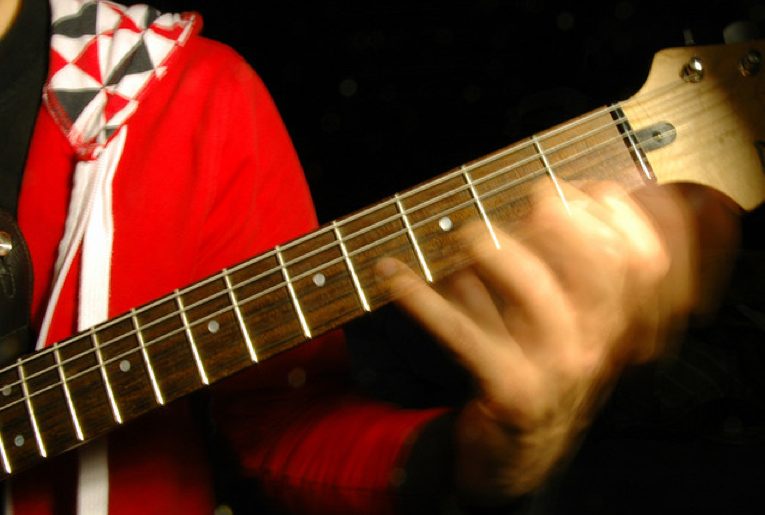 A lot of the cool licks that are used in solos are played on just 2 strings. Usually on the high E and B string.
Although they are most common in shredding, you can find them in all genres of music.
The best way to learn these licks fast, clear and fluently is to practice them with alternate picking and the use of a metronome.
Alternate picking means you hold the pick between your thumb and index finger with the pointed end facing toward the strings. You strictly use alternating down and up strokes. The first note you play is downstroke, the second an upstroke, the third one a downstroke, the fourth one an upstroke and so on.
Start out slowly and gradually increase speed. Use the licks as a warm up exercise in your daily practice workout.
Beside the metronome you can also learn to play the licks along with a backing track.
As you do this make sure you focus on correct tempo and timing.
Notes:-All of the exercises below are licks, except for exercise 20 and 21.
-Repetitive licks are shown by the 2 dots next to the bar line. Repeat what ever is written between those two dots. Repetitive licks are repeated at least 2 times or more.
These 22 exercises will really improve your alternate picking speed if you follow the instructions I just mentioned. You'll have some nice chops to work with.
Have a great work out!



EXERCISE #1 (in key of D major or B minor)
e:---------7--------|------------------------------------|
B:--7-8-10---10-8---|------------------------------------|
G:*----------------*|------------------------------------|
D:*----------------*|------------------------------------|
A:------------------|------------------------------------|
E:------------------|------------------------------------|



 


EXERCISE #2 (in the key of E minor)
e:--------5-----5-7-|---5-7-8-7-5-------|----------------|
B:--5-7-8---7-8-----|-8-----------8-7---|----------------|
G:*-----------------|------------------*|----------------|
D:*-----------------|------------------*|----------------|
A:------------------|-------------------|----------------|
E:------------------|-------------------|----------------|


 


EXERCISE #3 (in key of D major or B minor)
e:---------7-9-10-9-7---------|--------------------------|
B:--7-8-10------------10-8----|--------------------------|
G:*--------------------------*|--------------------------|
D:*--------------------------*|--------------------------|
A:----------------------------|--------------------------|
E:----------------------------|--------------------------|


 


EXERCISE #4 (in the key of E minor)
e:--------5------8-|-7-5----------------|----------------|
B:--5-7-8--8-7-5---|-----8-7-5-4-5-7----|----------------|
G:*----------------|-------------------*|----------------|
D:*----------------|-------------------*|----------------|
A:-----------------|--------------------|----------------|
E:-----------------|--------------------|----------------|


 


EXERCISE #5 (in the key of D major)
e:--------2-3-2-------|----------------------------------|
B:--2-3-5-------5-3---|----------------------------------|
G:*------------------*|----------------------------------|
D:*------------------*|----------------------------------|
A:--------------------|----------------------------------|
E:--------------------|----------------------------------|


 


EXERCISE #6 (in the key of E minor)
e:---------5-7-8-|-10-8-7---------|----------------------|
B:--5-7-8--------|--------10-8-7--|----------------------|
G:*--------------|---------------*|----------------------|
D:*--------------|---------------*|----------------------|
A:---------------|----------------|----------------------|
E:---------------|----------------|----------------------|


 


EXERCISE #7 (in the key of E minor)
e:-8-5-7---5-------|--------7-8---7---|--------------5-7-|
B:-------8---8-7-5-|-7-8-10----10---8-|-10-8-7-5-7-8-----|
G:*----------------|------------------|-----------------*|
D:*----------------|------------------|-----------------*|
A:-----------------|------------------|------------------|
E:-----------------|------------------|------------------|


 


EXERCISE #8 (in the key of D major)
e:--------2-------5-|-3-2-3---5-3-2----|-----------------|
B:--3-2-3---3-2-3---|-------5-------5--|-----------------|
G:*-----------------|-----------------*|-----------------|
D:*-----------------|-----------------*|-----------------|
A:------------------|------------------|-----------------|
E:------------------|------------------|-----------------|


 


EXERCISE #9 (E Pentatonic)
e:------5-7-5-7-|-10-7-5-7-5-----|-----------------------|
B:--5-8---------|------------8---|-----------------------|
G:*-------------|---------------*|-----------------------|
D:*-------------|---------------*|-----------------------|
A:--------------|----------------|-----------------------|
E:--------------|----------------|-----------------------|


 


EXERCISE #10 (G Blues)
e:----------9-10-13-10-9--------|------------------------|
B:--8-11-13--------------13-11--|------------------------|
G:*----------------------------*|------------------------|
D:*----------------------------*|------------------------|
A:------------------------------|------------------------|
E:------------------------------|------------------------|


 


EXERCISE #11 (B blues)
e:---------1-2-5--|---7-5-2----------|----------5-7-10------|
B:---0-3-5--------|----------6-5-3---|---5-6-7--------------|
G:----------------|------------------|----------------------|
D:----------------|------------------|----------------------|
A:----------------|------------------|----------------------|
E:----------------|------------------|----------------------|


 



e:-12-10-7--------|---------10-12-13-|-14-13-12-------------|
B:---------10-7-6-|-7-10-12----------|----------15-12-10-12-|
G:----------------|------------------|----------------------|
D:----------------|------------------|----------------------|
A:----------------|------------------|----------------------|
E:----------------|------------------|----------------------|


 


EXERCISE #12 (in the key of E minor)
e:-12-10-0---10-8-0--|-8-7-0---10-8-0-|-8-7-0---7-5-0-------|
B:-------------------|----------------|---------------------|
G:-------------------|----------------|---------------------|
D:-------------------|----------------|---------------------|
A:-------------------|----------------|---------------------|
E:-------------------|----------------|---------------------|


 



e:-8-7-0---7-5-0-----|-5-3-0---7-5-0--|-5-3-0---3-2-0-------|
B:-------------------|----------------|-----------------5---|
G:-------------------|----------------|---------------------|
D:-------------------|----------------|---------------------|
A:-------------------|----------------|---------------------|
E:-------------------|----------------|---------------------|


 


EXERCISE #13 (in the key of C major)
e:-------1-3-5-|-7-5-3-------|-------5-7-8-|-10-8-7---------|
B:-1-3-5-------|-------6-5-3-|-5-6-8-------|--------10-8-6--|
G:-------------|-------------|-------------|----------------|
D:-------------|-------------|-------------|----------------|
A:-------------|-------------|-------------|----------------|
E:-------------|-------------|-------------|----------------|


 



e:---------8-10-12-|-13-12-10----------|----------12-13-15--|
B:-8-10-12---------|----------13-12-10-|-12-13-15-----------|
G:-----------------|-------------------|--------------------|
D:-----------------|-------------------|--------------------|
A:-----------------|-------------------|--------------------|
E:-----------------|-------------------|--------------------|


 


EXERCISE #14 (in key of C minor)
e:--------1-3-4-|-------3-4-6-|-------4-6-8-|-------6-8-10--|
B:-1-3-4--------|-3-4-6-------|-4-6-8-------|-6-8-9---------|
G:--------------|-------------|-------------|---------------|
D:--------------|-------------|-------------|---------------|
A:--------------|-------------|-------------|---------------|
E:--------------|-------------|-------------|---------------|


 



e:--------8-10-11-|---------10-11-13-|----------11-13-15---|
B:-8-9-11---------|-9-11-13----------|-11-13-15------------|
G:----------------|------------------|---------------------|
D:----------------|------------------|---------------------|
A:----------------|------------------|---------------------|
E:----------------|------------------|---------------------|


 


EXERCISE #15 (G diminished)
e:------6-9-6----|-----------------------------------------|
B:--5-8-------8--|-----------------------------------------|
G:*-------------*|-----------------------------------------|
D:*-------------*|-----------------------------------------|
A:---------------|-----------------------------------------|
E:---------------|-----------------------------------------|


 


EXERCISE #16 (G diminished)
e:-----3---6-----|------9---12-------|------9---6-----|
B:-2-5-------8-5-|-8-11--------14-11-|-8-11-------8-5-|
G:---------------|-------------------|----------------|
D:---------------|-------------------|----------------|
A:---------------|-------------------|----------------|
E:---------------|-------------------|----------------|


 


e:-----3----------------------------------------------|
B:-2-5---2--------------------------------------------|
G:----------------------------------------------------|
D:----------------------------------------------------|
A:----------------------------------------------------|
E:----------------------------------------------------|


 


EXERCISE #17 (in the key of C major)
e:------7----5-8--|-----------------------------------|
B:--5-8----6------|-----------------------------------|
G:*--------------*|-----------------------------------|
D:*--------------*|-----------------------------------|
A:----------------|-----------------------------------|
E:----------------|-----------------------------------|


 


EXERCISE #18 (in key of G minor)
e:--------6-----|-------8-----|-------6-----|-------5-----|
B:--8-6-8---8-6-|-8-6-8---8-6-|-8-6-8---8-6-|-8-6-8---8-6-|
G:*-------------|-------------|-------------|------------*|
D:*-------------|-------------|-------------|------------*|
A:--------------|-------------|-------------|-------------|
E:--------------|-------------|-------------|-------------|


 


EXERCISE #19 (in the key of E minor)
e:--------------|-------5-5-5-|-7-7-7-8-8-8-|-7-7-7-5-5-5-|
B:--5-5-5-7-7-7-|-8-8-8-------|-------------|-------------|
G:*-------------|-------------|-------------|-------------|
D:*-------------|-------------|-------------|-------------|
A:--------------|-------------|-------------|-------------|
E:--------------|-------------|-------------|-------------|


 


e:---------------|----------------------------------------|
B:-8-8-8-7-7-7---|----------------------------------------|
G:--------------*|----------------------------------------|
D:--------------*|----------------------------------------|
A:---------------|----------------------------------------|
E:---------------|----------------------------------------|


 


EXERCISE #20
e:---------1-2-3-4-|---------2-3-4-5-|---------3-4-5-6--|
B:-1-2-3-4---------|-2-3-4-5---------|-3-4-5-6----------|
G:-----------------|-----------------|------------------|
D:-----------------|-----------------|------------------|
A:-----------------|-----------------|------------------|
E:-----------------|-----------------|------------------|


 


e:----------4-5-6-7-|---------5-6-7-8-|---------6-7-8-9-|
B:-4-5-6-7----------|-5-6-7-8---------|-6-7-8-9---------|
G:------------------|-----------------|-----------------|
D:------------------|-----------------|-----------------|
A:------------------|-----------------|-----------------|
E:------------------|-----------------|-----------------|


 



e:----------7-8-9-10--|-----------8-9-10-11-|
B:-7-8-9-10-----------|-8-9-10-11-----------|
G:--------------------|---------------------|
D:--------------------|---------------------|
A:--------------------|---------------------|
E:--------------------|---------------------|


 



e:-------------9-10-11-12-|-------------10-11-12-13-|
B:-9-10-11-12-------------|-10-11-12-13-------------|
G:------------------------|-------------------------|
D:------------------------|-------------------------|
A:------------------------|-------------------------|
E:------------------------|-------------------------|


 


and back
e:-13-12-11-10--------------|-12-11-10-9------------|--------|
B:--------------13-12-11-10-|------------12-11-10-9-|--etc---|
G:--------------------------|-----------------------|--------|
D:--------------------------|-----------------------|--------|
A:--------------------------|-----------------------|--------|
E:--------------------------|-----------------------|--------|


 


EXERCISE #21
e:-------1-3-4-|-------2-4-5-|-------3-5-6-|
B:-1-2-4-------|-2-3-5-------|-3-4-6-------|
G:-------------|-------------|-------------|
D:-------------|-------------|-------------|
A:-------------|-------------|-------------|
E:-------------|-------------|-------------|


 



e:-------4-6-7-|-------5-7-8----|-------6-8-9-|
B:-4-5-7-------|-5-6-8----------|-6-7-9-------|
G:-------------|----------------|-------------|
D:-------------|----------------|-------------|
A:-------------|----------------|-------------|
E:-------------|----------------|-------------|


 


e:--------7-9-10-|--------8-10-11-|---------9-11-12----------|
B:-7-8-10--------|-8-9-11---------|-9-10-12------------------|
G:---------------|----------------|--------------------------|
D:---------------|----------------|--------------------------|
A:---------------|----------------|--------------------------|
E:---------------|----------------|--------------------------|
and back
e:-12-11-9---------|-11-10-8---------|-10-9-7--------|-------|
B:---------12-10-9-|----------11-9-8-|--------10-8-7-|--etc--|
G:-----------------|-----------------|---------------|-------|
D:-----------------|-----------------|---------------|-------|
A:-----------------|-----------------|---------------|-------|
E:-----------------|-----------------|---------------|-------|


 


EXERCISE #22
e:---0----12---0----10-|---0----9---0---7-|---0---5---0---3--|
B:-0---12----0---12----|-0---10---0---8---|-0---7---0---5----|
G:---------------------|------------------|------------------|
D:---------------------|------------------|------------------|
A:---------------------|------------------|------------------|
E:---------------------|------------------|------------------|


 



e:----0---2---0-2------|-0---3---0---5----|-0---7---0---9----|
B:--0---3---0-----3----|---0---5---0---7--|---0---8---0---10-|
G:---------------------|------------------|------------------|
D:---------------------|------------------|------------------|
A:---------------------|------------------|------------------|
E:---------------------|------------------|------------------|


 


-0---10---0---12-|
---0----12--0----|
-----------------|
-----------------|
-----------------|
-----------------|
If you liked this post please share it on Stumbleupon. I appreciate it.

Thanks,
Klaus Crow