Bigstock photo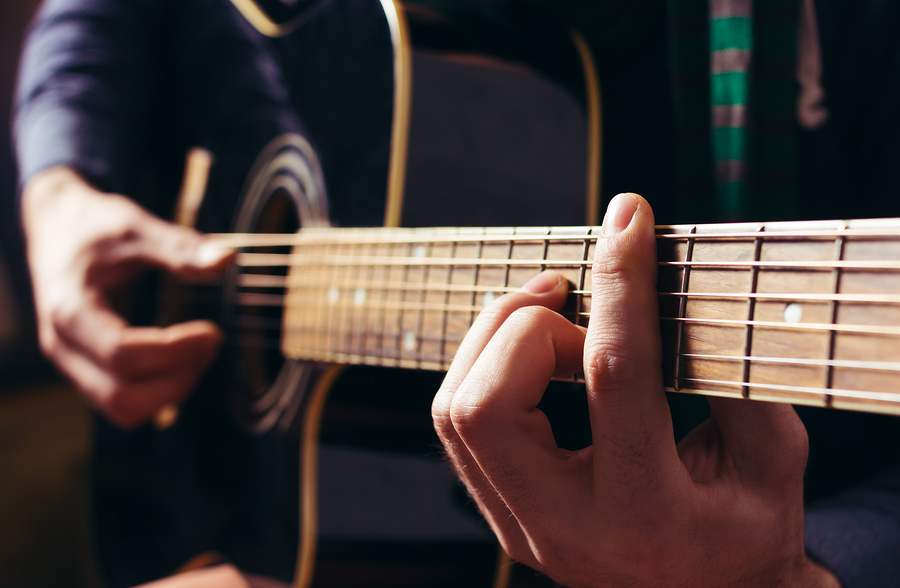 Getting a barre chord to sound good is a real struggle for many guitar students, especially on an acoustic guitar.
It takes a while to really get a barre chord to sound clean and clear. Let's be honest here, barres are nasty pain in the &ss and can be pretty frustrating at first.
It almost feels like impossible to apply the amount of pressure on the fingers to get them sound smooth.
But don't worry, if you follow the tips and exercises in this post, it's gonna get better, a lot better. If fact, you're gonna do great!
The trick is not just about pressing hard. There's more to it. Yes, it is important to press your index finger firmly down on the strings in order to make it work, but then again, you don't want to push too hard either. You need to find the right balance. Whatever you do, do not strain! Don't be a wimp, but if you're feeling cramps just let go for a minute.
Watch the positioning of your fingers. Alter the positioning of your index finger slightly up or down to see if you can fix some of the buzzes and mutes. Try rolling it to the sight a bit. Make sure your thumb is right behind the neck to give it enough support. Observe all your fingers and hand position carefully.
Don't expect your barres to sound great in the beginning, it's part of the process. Your fingers need to build strength but also learn to shape the right way. It takes some time for your fingers to find the right placement onto the strings. So it's not just a matter of strength but also technique and the latter takes practice and patience. Read More »
Bigstock photo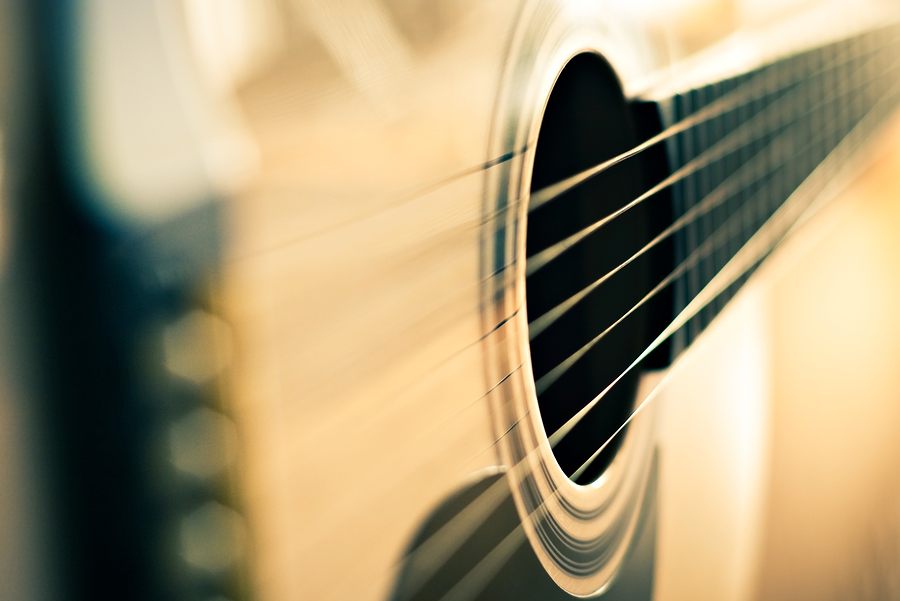 There's this one thing that is so completely awesome about the guitar.
I love the fact that you can choose to be in two complete different worlds. One moment I plug in my electric guitar to make it rock, scream, tear up the place and feel ecstatic.
And the other time I want to indulge in beautiful acoustic guitar songs and get swept away by melody, harmony and lyrics. It's the best of both worlds.
Today were gonna look at same great songs to do the latter.
As with all lists on this blog they are here to give you inspiration. The lists are in no particular order and totally incomplete. And it doesn't matter, what matters is that you grab your guitar out of the stand and start playing it after reading and listening to this post.
Maybe you'll hear a song or artist you haven't heard before and find yourself pleasantly surprised. Probably you haven't heard some of the songs for quite a while and it makes you feel good to hear them again. You might consider learning one of these songs and adding them to your repertoire or get inspired to write a song of your own.
Whatever it is…
Enjoy!
1 – Hotel California – (Hell Freezes Over) – Eagles
2 – Wish you were here (acoustic) – Pink Floyd
3 – Blackbird – Paul McCartney
4 – Angie – Rolling Stones
5 – Heart of gold – Neil Young
6 – More than words – Extreme
7 – Wonderwall – Oasis
8 – Layla (Unplugged) – Eric Clapton
9 – To be with you – Mr. Big
10 – Under the bridge (acoustic) – Red Hot Chili Peppers
11 – Working class hero – John Lennon
12 – Crazy little thing called love – Queen
13 – The Times They Are A Changin' – Bob Dylan
14 – Dust In The Wind – Kansas
15 – Daughters – John Mayer
16 – Everlong (acoustic) – Foo Fighters
17 – The scientist (acoustic) – Coldplay
18 – The River (acoustic) – Bruce Springsteen
19 – Ain't No Sunshine – Bill Withers
20 – When the stars go blue – Ryan Adams
21 – Teach your children – Crosby, Still, Nash & Young
22 – Cannonball – Damien Rice
23 – Trouble – Ray La Montagne
24 – Jolene – Dolly Parton
25 – Wild horses – The Stones
26 – Redemption Song – Bob Marley
27 – Free fallin' – Tom Petty
28 – She Talks To Angels – Black Crowes
29 – Fire and Rain – James Taylor
30 – Give a little bit – Supertramp
31 – Pride and joy (acoustic) – Stevie Ray Vaughan
32 – Sound of silence – Paul Simon
33 – Sweet home Chicago – Robert Johnson
34 – Patience – Guns N' Roses
35 – Country roads – John Denver
36 – Have you ever seen the rain – CCR
37 – Yellow (acoustic) – Coldplay
38 – Horse With No Name – America
39 – Banana Pancakes – Jack Johnson
40 – About a girl – Nirvana
41 – American Pie – Don Mclean
42 – Jack and diane – John Mellencamp
43 – Iris – Goo goo dolls
44 – Wanted (Dead Or Alive) – Bon Jovi
45 – Both sides now – Joni Mitchell
46 – Tears In Heaven – Eric Clapton
47 – Maggie May – Rod Stewart
48 – Good riddance (time of your life) – Greenday
49 – The A team – Ed Sheeran
50 – I Will Follow You Into The Dark – Death Cab for Cutie
What's your favorite acoustic guitar song?
Please share in the comments.
Join the Guitarhabits facebook page to keep up with the latest posts, guitar lesson videos, tips, tricks and other news about Guitarhabits.
Just click the green Facebook button here below.


FreeDigitalPhotos.net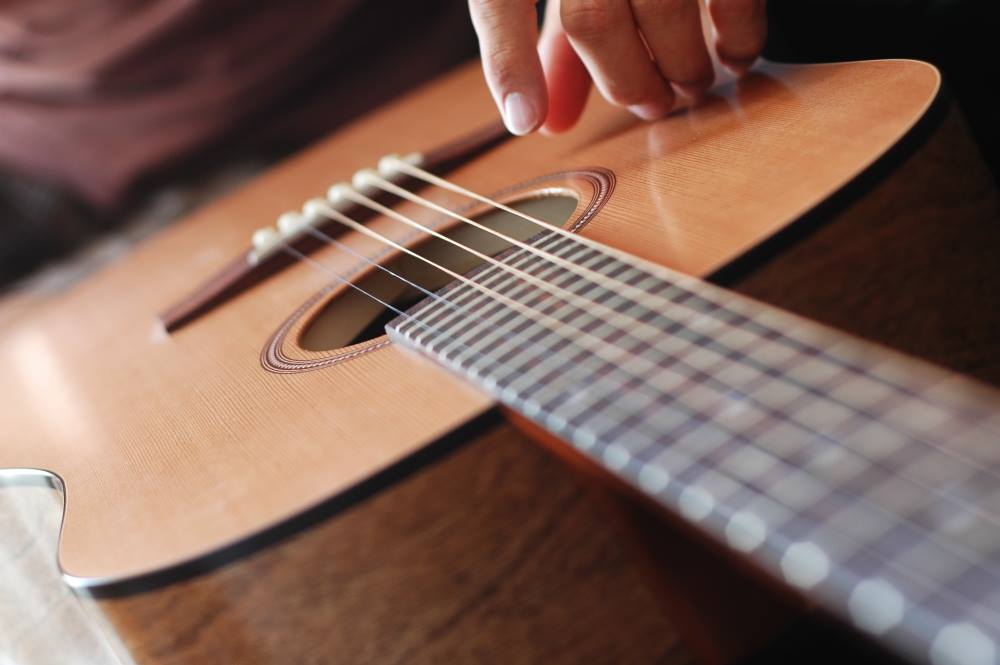 If your kids show any interest in playing an instrument, then I can't tell you enough to encourage them to go for it.
You probably have no idea how much of a difference you'll be making in their lives by letting them explore and develop a talent that will do more for them than you think.
Playing the Guitar Changed My Life
When I first picked up a guitar in the seventh grade, little did I know that my life would never be the same.
My Dad was a guitarist and he couldn't wait until his son got old enough for him to jam with. He bought me my first real guitar for Christmas: A sweet blood-red Peavey electric bass. It was a great beginner bass guitar that played just as smooth as anything twice its cost. Plus it sounded twice as great too.
It was only a few months of practicing before I was in high school and the my guitar playing really changed my life. When you're young, you seek out other people who are like you. So naturally I became friends with pretty much any other musician I could find. Before long my evenings and weekends were filled with more band practices and good times than I would have ever predicted. Everywhere I went, we all went as a group.
At a time when most other teenagers were being loners or just plain awkward, being in a band gave me the opportunity to hit the stage at the local talent shows, dances, and other hot spots around town. And with every performance I became more and more adventurous about performing live in public and meeting other people. Read More »
Bigstock photo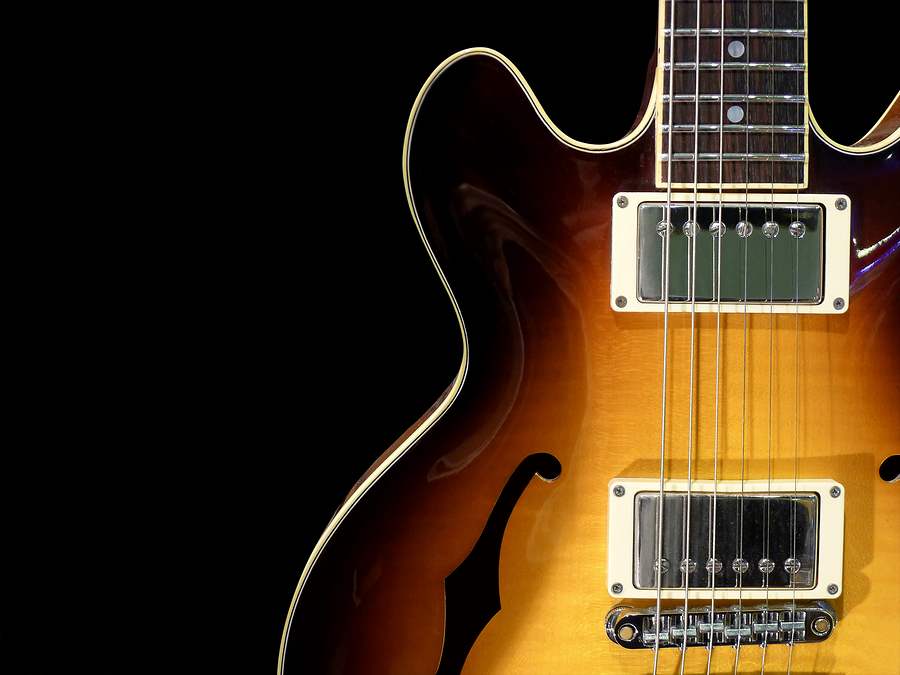 The spider exercises are one of my favorites. The spider is a cross string picking exercise that is designed to develop dexterity in both hands.
If you're having trouble with either your right hand or left hand coordination and you want to see real improvement then these are the perfect exercises.
Do you think your hand coordination is superb then try the exercises below to confirm your assumptions or go back to your room to practice some more. :)
Depending on your skills the spider is not exactly for the faint hearted. It can be quite challenging but careful once you get the hang of it, it's a really addicting exercise that won't get rid of you.
How to practice
Start out slow, real slow and play through each exercise a couple of times until it feels comfortable. Once you can play the exercises slowly without faltering try playing along with a metronome. Again begin real slowly and gradually increase the tempo of the metronome.
Pay attention to the quality of the exercise. Make sure all the notes sound clean and clear. Apply alternate picking technique with your right hand (down,up,down,up).
Focus fully on the exercise. Observe your left and right hand while playing and see if there's anything that needs to be corrected or improved. The slightest change can make a huge difference. Read More »
Bigstock photo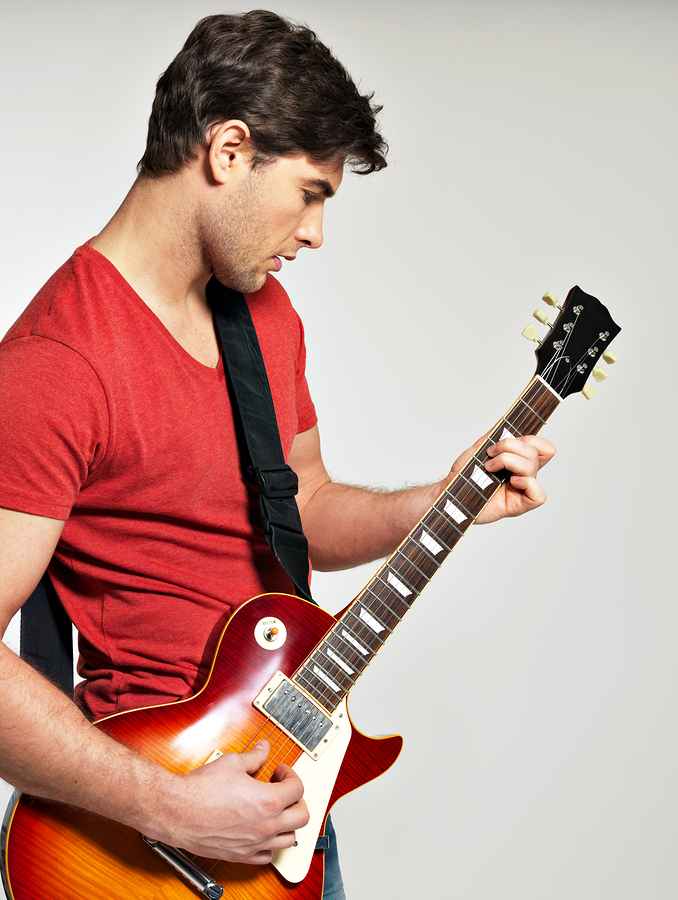 When I first started playing electric guitar (4 years after I picked up the acoustic guitar) all I wanted to do is learn those almighty guitar solos of Slash, Nuno Bettencourt, Joe Satriani, Stevie Ray Vaughan, Scott Henderson, Marty Friedman, Kirk Hammet, Dimebag Darrel and other great legends.
It was the best thing ever. Unawarely I built my guitar vocabulary like that.
After a while fellow musicians, guitar teachers and guitar players from around town that I looked up to were advising me to develop my own style and learn to improvise. It was the obvious next step to becoming a better guitar player.
I practiced scales, sequences, licks, arpeggios, intervals, just about anything I could get my hands on and continued to work on my improvisation skills. Freedom on the fretboard at last.
Then I started playing in bands doing covers, creating and performing my own music. Playing some more and more and more. Time went by and I gained a lot of gigging experience, developed my own style, learned a lot of new things, but on the other side I also stopped building and expanding my guitar vocabulary.
Years later I got back into transcribing and practicing solos by other guitar heros that found my interest. It was refreshing, inspiring and opened up new worlds. It took my soloing to other places and improved my playing once again.
To gain input and keep educating yourself you got to keep practicing, studying and memorizing guitar solos regularly. It's like reading a new book or watching a brilliant movie to fuel your inspiration.
Besides that there are also other important reasons and benefits to learning lead guitar solos.
Check them out: Read More »
Bigstock photo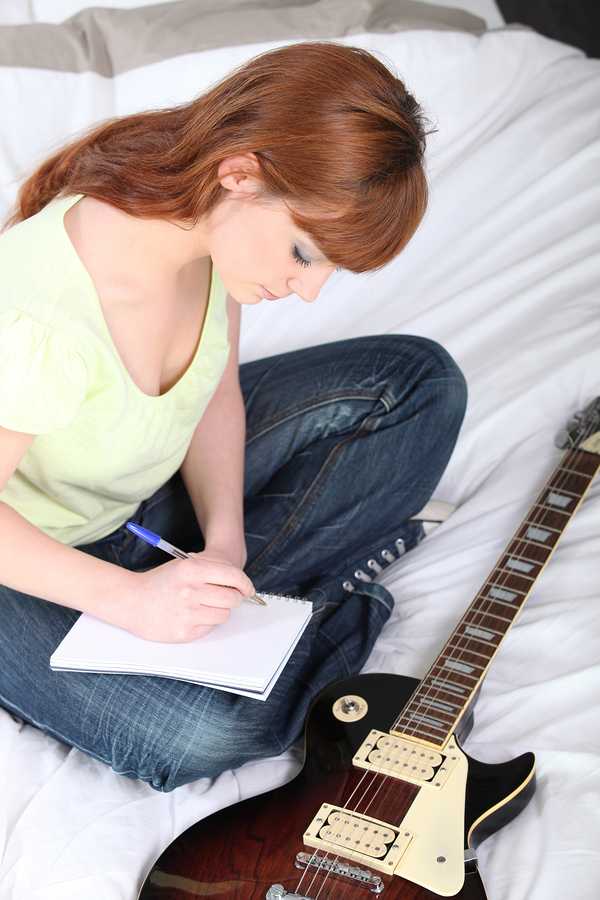 Building, learning and mastering a repertoire is part of being a musician. It's your chance to show who you are as a musician.
It's a great feeling to be prepared and feel confident whenever someone asks you to play something, to perform spontaneously in front an audience because you know you can or just to be able to play a bunch of songs when you're relaxing at home, on the beach, on a holiday or when you're hanging out with family and friends without having to rely on your sheet music.
You will feel free and liberated.
Building a repertoire when you're playing in a band can be a fun challenge too.
Depending on the number of musicians, what kind of musicians and instruments in the band (acoustic guitar, electric guitar, male vocal, female vocal, bass, drummer, keyboard, trumpet, violin, cello, accordeon, steel guitar, etc.) they will definitely influence the choice of songs and the styles you pick for your repertoire.
For every instrument so many ideas come to mind. Such a pleasure :)
So how do you go about building your own repertoire?
Let's take a closer look.
Picking the right songs
Take out a paper and pencil or a laptop if you prefer. Choose songs you love and songs that are appealing to the audience. It's likely that the songs you choose will remain on your repertoire for quite a while so choose wisely. If you're playing covers and you want to play songs that do well by a large number of people then songs by the Beatles or Eagles or always a good pick. Of course it also depends on the style of music you play, the average age of your audience and where your show is located. Read More »