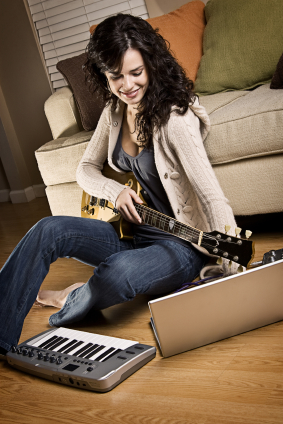 Web 2.0 and cloud computing are hot. It's the future and it is rapidly evolving.
Whether you want to be a better guitar player, be more efficient or want to promote yourself as a musician, Internet is the place to be and it just keeps getting better.
These days you don't need to spend a lot of money anymore to promote your band or to create a fan base. What you do need is hard work, dedication and persistence.
But what does "hard work" really mean when it is your passion, right? When you pursue your passion you don't feel like you are working. You're just having fun. So have as much fun as you can.
The more you connect and interact with your fans/potential customers on social media (see below), the bigger your fan base will become.
Social media works. Period! If you are willing to spend time and energy you can sell your music online or create a business using social media if you like. It's all there!
If you want to be more efficient in learning, teaching, playing and communicating with your band members, students or colleague musicians there are a lot of productivity tools for you to benefit from. It can make life a whole lot easier.
Personally I strive to eliminate everything that causes work for work's sake. Endless returning tasks, things that have to be done over and over again I try to automate or eliminate. This way I waste less time and can do more fun things like playing guitar, improving the quality and creativity of my business and spend more time with my wife and daughter. It's all about being creative with the tools you've got.Continue Reading