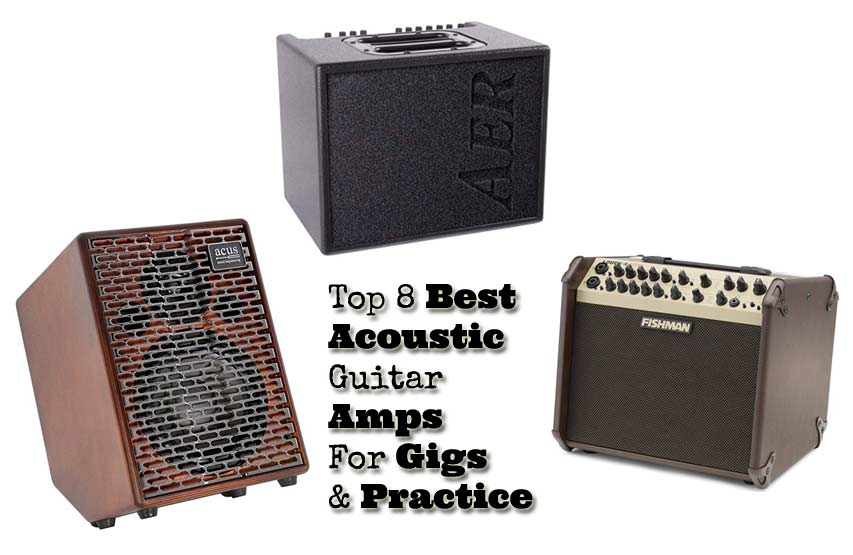 For a lot of guitar players an acoustic guitar amp is a luxury product and not a necessity. Usually it becomes interesting for musicians who want to play with their acoustic guitar at small clubs, bars, cafe's, coffee houses and for busking. But there are also musicians who have found the holy grail in the acoustic amp for practicing purposes and playing for enjoyment.
I haven't had an acoustic guitar amp for a long time myself, because whenever I played acoustic on stage I usually plugged directly into the mixer, using our own band's P.A. system. Fortunately, I've had the pleasure of playing and trying out many amps over the years from guitar students, fellow musicians and guitar shops in the area.
A while back I decided to buy my own acoustic amp because I was asked to play for a small audience of around 50 people. But then something unexpectedly happened. One afternoon the amp arrived at my home, I plugged in my guitar, started playing and I couldn't stop anymore. The amp sounded so great and mesmerising. I played the next day, and the next, and the next, and I still play it every day (yes I do sleep and eat in between).
I am sold, I am completely sold. I never had so much fun practicing, playing and singing songs at home, and also playing the gig was heaven. I was totally swept away by the sound and power of the amp carrying the performance to a superior level.
I must admit it's due to a high quality acoustic guitar amp that sounds really incredible. Nonetheless, it adds major value to practice, playing and performing.
So wherever you are in your guitar journey you should try plugging your guitar into an acoustic amp and see where it will take you. You never know, it might change your life as a musician. It could be your trigger and stepping-stone to playing and performing for a small live audience, or just having a blast playing and practicing at home.
Today we got a list of eight awesome acoustic guitar amps in different price ranges, watts, size and quality, all unique in their own way. The amps are great value for money, and ideal for practice and gigs.
Note: As an Amazon Associate I earn from qualifying purchases.
Enjoy!
1 – ACUS – ONEFORSTRINGS 8 ACOUSTIC GUITAR AMPLIFIER – SIMON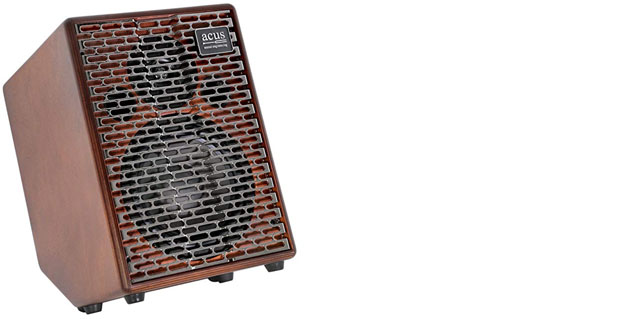 The ACUS Oneforstrings 8- Simon is one high class acoustic amplifier. What you hear is beautiful, sparkling, full, and a real natural sounding tone. It's perfect for performing as well as practicing and recording. You can also use it as a mini PA system.
The innovative and stylish control panel features custom styled knobs, micrometric and functional. With equalisation, the tone controls modify frequency levels without suppressing the original note, even at lower and upper registers. The whole range also features multiple channels and reverb with processors exclusive to Acus.
Also provided are line outs, mic and auxiliary inputs. The Acus has a protective metal grille and carry handles, perfect for on the road. The Italians at "Acus Sound Engineering" have done an amazing job. It is versatile and responsive, with a full range of functions specifically tailored for acoustic instruments. It's standing easily alongside high quality amps like AER (see next). It's the perfect amp for acoustic guitar, singing and other acoustic instruments.
Channels: All separately adjustable channels, Gain control & Effect send per channel
Channel 1 and 2: input jack or balanced XLR input and switchable phantom power
Channel 3: jack input
Channel 4: stereo RCA input
Controls: Master Volume, Effect master controller, Volume line out
EQ: 3-band EQ per channel (bass, middle, treble), gain control, and master volume
FX: Reverb, Chorus, Flanger, Delay. Digital fx unit with 8 different DSP reverb effects
Power: 200 Watt
Speakers 1 x 8″ bass speaker + 1 x ring tweeter
Weight: 28.60 lbs (13 kg)
Dimensions: (W x D x H) 32 x 27.5 x 39 cm
Extra: Balanced XLR DI output, Line-out output with jack or stereo RCA, Headphone output, Notch filter and Ground lift
More info, Prices and Reviews for the ACUS – OneforStrings 8 – Simon
Continue Reading