Last Updated on May 22, 2021 by Klaus Crow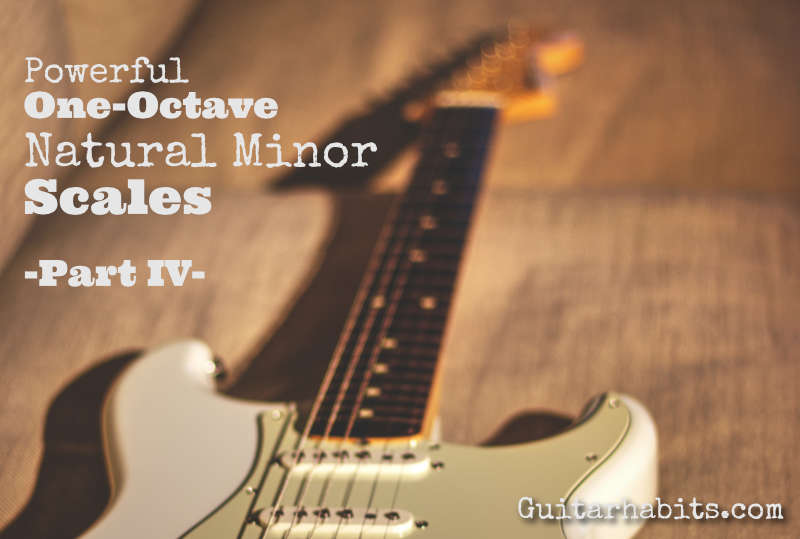 Welcome you diligent guitar student. You have arrived at Part IV of the "One-Octave Natural Minor Scales" Series. The final lesson of these series to practice, play and put it all together. Let's get your hands dirty!
If you are a first timer in these series start from the beginning and check out:
Powerful One-Octave Natural Minor Scales – Part I
Powerful One-Octave Natural Minor Scales – Part II
Powerful One-Octave Natural Minor Scales – Part III
In Part IV we're going up the strings again and start with the root note from the G-string (3rd string) all the way up to the high e-string (1st string). We have 3 different scale patterns to learn, all containing the same notes of the natural minor scale.
Why Learn One-Octave Natural Minor Scales?
Learning one-octave natural minor scales will make you see and understand the overal picture of the scale in a clearer way. You can easily recognize the shape, the structure, the notes and the intervals of the scale, also how to practice and put it in action, since it's only one octave. The scale is as important for beginners as it is for intermediate guitar players. Both will benefit from these scale tremendously.
If you found yourself in this lesson but you're looking to learn the two-octave natural minor scales, or you want a follow up for the "One-octave Natural Minor Scales Series" check out: Exploring the Natural Minor Scale and The 5 natural minor scale positions you must know. If you stay with this lesson, focus and dominate!
Continue Reading