Last Updated on May 15, 2019 by Klaus Crow
Sunrise in Machu Picchu by thecsman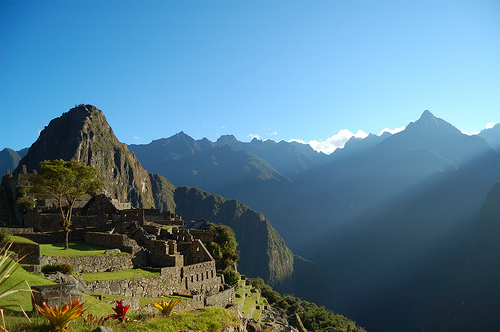 Since a year now I have been waking up early. Going from 6 a.m to 5 a.m. My life has changed because of it.
Finally I have the time to do everything that I love to do: practicing guitar, running my business, writing a blog, writing songs, working out, reading, spending a lot of time with my wife and children.
It's the greatest reward and reminder for waking up early.
I wake up early at least 5 days a week. I like to wake up early two or three days in a row and then one day sleep late. (7.30 a.m.) At night I go to bed at 11 p.m. Not a minute later. If I go to bed at 12 p.m. and try to wake up early it won't work. I tried many different ways and figured out the one that worked best for me. I think this is different for everyone so you have to experiment with this.
Originally I am a night owl and waking up early is not something that came naturally for me, but it has become a habit and it's the best thing ever!
Here are the 8 tips that do work:
1 – The reason
You got to have a reason to wake up early or else you won't do it. The reason can be a goal. Before you go to bed, write down the steps you will take the next morning to achieve a part of that goal. Make sure it's a goal you really want to accomplish. It has to be something you are passionate and excited about.
2 – Early enough
Set the alarm early enough so you can really get some work done. If you wake up only 15 minutes earlier and it's too less time to accomplish anything you won't stick with it. Wake up a half an hour, one hour or two hours earlier. Gradually increase your wake up time.
3 – Go to bed
Let's be honest, you won't get any smarter by watching TV. It won't realize your dream goal. Just go te bed in time. You can do without those late night talk shows or crime scene investigation series. Be smart. Waking up early is much more fulfilling.
4 – Stop thinking
The moment your alarm goes off you're are giving yourself a hundred reasons against one or two to get back to sleep. Stop your thinking the very right moment you wake up. Just step out of bed. Don't you dare talk to yourself. Don't go into a discussion. You will lose if you will. Don't go for the short term benefits, but go for the long term benefits that will change for life. People who give in to the short term benefits won't get their dream goals accomplished.
5 – Mantra
If you do get trapped into thinking, speak out your mantra. Create a mantra for yourself to make sure you wake up early. The Mantra should contain a few keywords to define the reasons why you want to wake up early.
One of the reasons could be is to get some work done. If you have children it's really difficult to get any work done. So this is your private time in total solitude. Your most productive time of the day. The Mantra keywords could be "private time", "productiveness".
6 – Accountability
Talk to people about your waking up early system and which goals you have accomplished or are busy accomplishing. The more people you talk to about it, the more accountable you feel to practice what you preach.
7 – Rewarding
You can reward yourself for waking up early, but the best reward is to be productive and focused on your goal. Get away from distractions (internet, mobile phones, TV, newspapers, etc) and just go for what you want to achieve. The feeling of accomplishment after you worked hard on your goal in the morning is the best reward ever. Try it and you will see.
8 – The Habit
It takes 3 to 4 weeks to create a habit. If you tried a few times but failed here and there, don't beat yourself up about it. Just try again. You just need to make it through the 3 weeks. By this time you created a habit. Now you are in it for the long term. You'll have the best time ever!